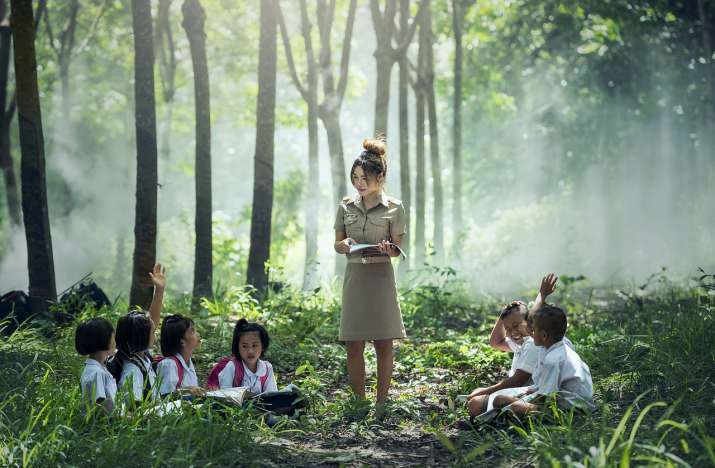 Teacher's Day is the special day designated to express gratitude towards our teachers for their contribution in shaping our future. The days is celebrated in India on 5th of September every year. Also, India also celebrates Guru Purnima dedicated to the spiritual and academic teachers during the month of June-July. However, Teacher's Day is celebrated on the birth anniversary of Dr Sarvepalli Radhakrishnan since 1962. Different countries celebrate Teacher's Day on different days, unlike many international days. Universally, Teacher's Day is celebrated on 5th October.
Sarvepalli Radhakrishnan was a friendly teacher and was very popular among his students for the example he has always set in front of them. His student sought his permission to celebrate his birthday in a very special way. He said that it would be his pride to celebrate his birthday in honour of all the teachers present in the world. Ever since then, 5th of September has been celebrated as Teacher's Day.
The teachers and students report to school on this day as usual, but the students plan special activities for their teachers. Some students even bring gifts for their teachers to show appreciation towards them.
Happy Teacher's Day Greetings, Inspirational Quotes, HD Images, Wishes, Messages, SMS, Status for WhatsApp & Facebook
A teacher nourishes the soul of a child for a lifetime.
Unknown
A Teacher presents the past, reveals the present, and creates the future.
Unknown
It is the supreme art of the teacher to awaken joy in creative expression and knowledge.
A good teacher can inspire hope, ignite the imagination, and instill a love of learning.
A good teacher must be able to put himself in the place of those who find learning hard.
I have learned silence from the talkative, toleration from the intolerant, and kindness from the unkind; yet, strange, I am ungrateful to those teachers.
The mediocre teacher tells. The good teacher explains. The superior teacher demonstrates. The great teacher inspires.
Happy Teachers Day
A teacher affects eternity; he can never tell where his influence stops.
The teacher who is indeed wise does not bid you to enter the house of his wisdom but rather leads you to the threshold of your mind.
A teacher is not the one who lets you choose a path but he is the one who directs you in your path. Happy Teachers' Day
Happy Teacher's Day 2018 WhatsApp Images, HD Wallpapers