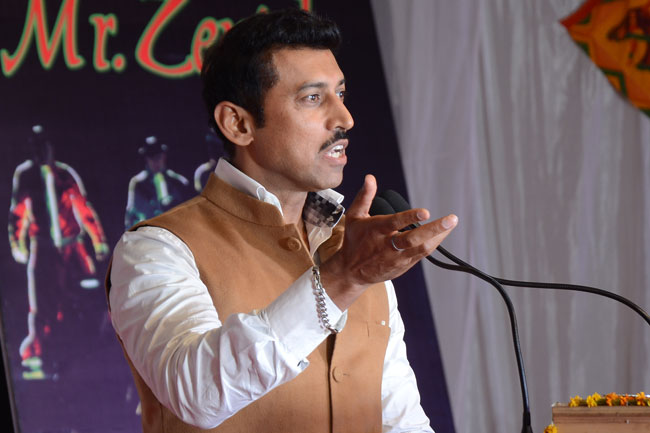 The newly appointed Sports Minister Rajyavardhan Singh Rathore urged to raise awareness about eye donation. He said educational institutes and media can play an important role in spreading the message. It should become a part of "daily conversation".
Speaking at the 32nd National Eye Donation Fortnight at the AIIMS here, the minister referred to the practice of blood donation, which, he said, has become commonplace. "As data say, about 1.2 crore people (in India) suffer from blindness and a large number of people are in need of corneal transplant. Blood donation has become so prevalent, even among people villages and small towns.
"Similarly, eye donation should become a part of our daily conversation. Awareness (about it) should be raised in schools, colleges and through television serials, and films, just like they have done it in case of blood donation," Rathore said. The minister of state for information and broadcasting also referred to giving up of the cooking gas subsidy by people to emphasise the point about donating for human cause."When the campaign to give up LPG subsidy was announced, many people made fun of it, saying who will let go of the subsidy. But later, so many families gave up the subsidy. It was more of ordinary people who forfeited it," he said.
Rathore, who won a silver medal in shooting at the 2004 Olympic Games, shared experiences of his Army and sporting careers to stress on the importance of the human eye. He also cautioned that blindness is related to lifestyle of people to certain extent. The minister, on the occasion, also launched an online facility through which people can register themselves for eye donation. AIIMS Director Randeep Guleria and the chairman of the National Eye Bank, Jeewan S Titiyal, were also present on the occasion."Families of various eye donors and NGOs working in the field, were felicitated as part of the celebrations to mark the National Eye Donation Fortnight, held annually from August 25 to September 8," Titiyal said.
In the recent cabinet reshuffle by PM Narendra Modi, the 47-year-old Rathore was promoted from minister of state for information and broadcasting to important portfolio of Sports Minister. The Athens Olympic silver medallist shooter took over from Vijay Goel who is now minister of state for parliamentary affairs.
(With IANS inputs)