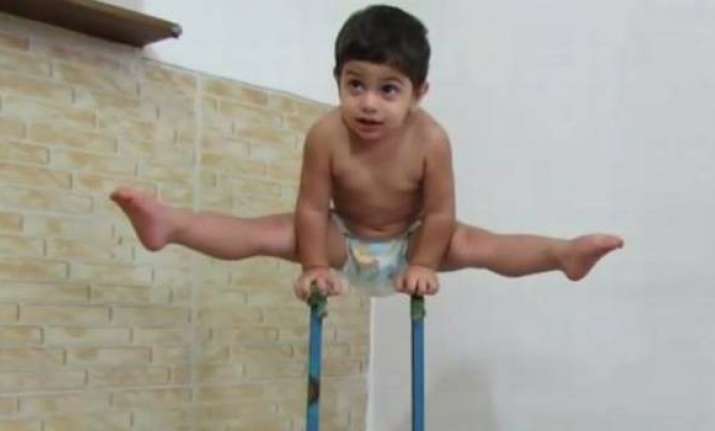 A three-year old boy, Arat Hosseni becomes an internet sensation with his spectacular gymnastic skills. He shows impressive feat of strengths in such a tender age where most of the kids love playing with their toys.
Arat Hosseni seems like a real-life incarnation of a fictional superhero, Spiderman, who climbs the wall with such an amazing ease.
In the video, you can see how baby Arat defies gravity and climbs up the wall in just few seconds. He is not holding on to anything else but the wall. With an unimaginable grip, this boy is being known by the name of Spiderman in real life.
Facts have been that Arat was able to perform the complicated poses of gymnastics when he was just nine months old!
Actually, Arat Hosseni is a gymnast who uses his superior muscle strength to cling on the wall, at which many adults fail.
On his Instagram account, one can see many remarkable videos in which this 3-year old kid is displaying his muscular strength.
In one of his videos, Arat is seeing doing backflips with an amazing precision. You can see him practicing his moves in the video, in many of which he fails. But the spirit of this baby boy isn't going to be broken with these petty failures.
His Instagram video has a meaningful message in its caption:
 Everyday we try more and more, and the pressure and stress which are on us are more too. For me every second is like the final second in Olympic.
Truly, having a superior grip and muscle strength at such a tender age is nothing less than a miracle. Arat Hosseni, the 3-year old gymnast continues to amaze us with his videos. Needless to mention why, this young prodigy has over 700 thousand followers on his Instagram handle!