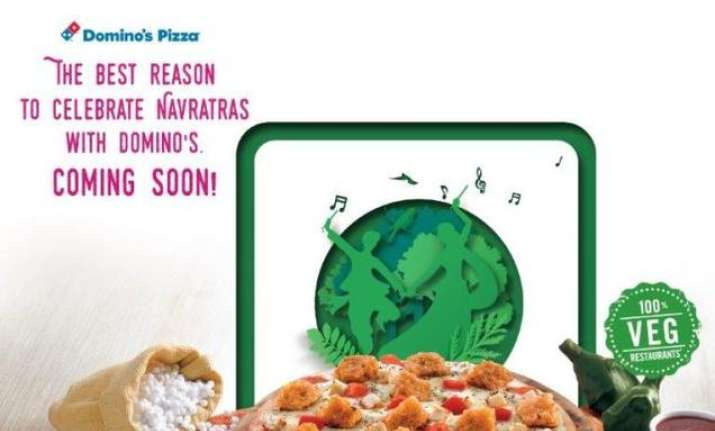 The holy festival of Navratri has begun yesterday and the entire country is imbued in the festive feeling as people begin their nine day fast. Considering the religious sentiments, Dominoz, one of the leading food chains in India, has decided to convert most of their outlets into purely vegetarian restaurants for ten days.
This is not all.
Dominoz is also introducing a Navratri special variety for the fasting consumers featuring vrat wala pizza, crispies and pudding, which will make you relish the holy festival with a heavenly flavour.
The idea behind launching this unique variety is that most of the Indians including our Prime Minister Narendra Modi observe the Navratri fast, in which they not just turn vegetarian but also avoid eating certain ingredients.
Interestingly, this Navratri special menu is 100% vegetarian and will be made of ingredients which one can consume during fasts. Notably, all the meals mentioned in the Navratri special combo will be made without the use of onions, garlic and common salt.
The combo includes Pizza with its crust made with water chestnut (singhara) and white millet (samak) flour. This will be garnished with fresh tomatoes, sabudana, mozzarella cheese and rock salt (sendha namak). This special pizza will be available at the cost of ₹ 249.
Besides a pizza, the Navratri special combo will have sabudana crispies which are the crunchy cutlets and will be served with tangy tamrind dip at a reasonable price of ₹ 55.
Dominoz has also come up with lipsmacking sago pudding for the fasting devouts at a price of just ₹ 49. This pudding will have the flavour of creamy sabudana along with mixed berries.
The Navratri special pizza will be available in all means of delivery at all Dominoz restaurants.