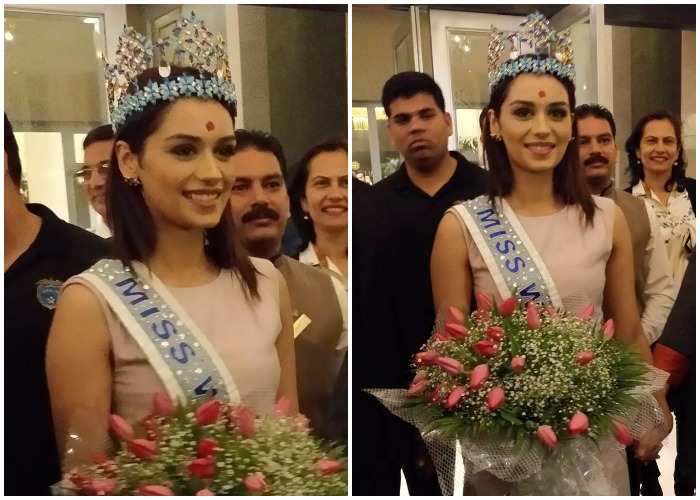 Haryana's beauty Manushi Chillar, who broke the 16-year jinx for India at Miss World pageant last week came back to India. The 22-year-old was crowned with coveted Miss World 2017 title, breaking the dry spell after 16 years. Last, Priyanka Chopra was crowned Miss World back in 2000. Manushi Chillar received a magnificent welcome at the airport from fans as she arrived on late Saturday night. She also shared pictures on her Instagram, telling how excited she was to come back to her country.
She was greeted at the international airport here with numerous fans chanting "India, India" as they held up Indian flags and posters of Manushi. The posters read: "Welcome back Manushi Chhillar", "Manushi Chhillar is Beauty with Brains, Miss World 2017".
"Feels great to be back home. Thank you India, for such a grand welcome," Manushi tweeted.
Manushi, who hails from Haryana, won the Miss World 2017 crown in Sanya, China, becoming the sixth Indian woman to win the prestigious title. She was in Hong Kong and London in the past week.
When Manushi walked out of the airport here, she wore her bejewelled crown proudly, waving at her fans and even obliged to take pictures with them. She had to struggle to reach her car as the shutterbugs and fans couldn't get enough of her.
Safeguarded by ample security, Manushi managed to rush through the pool of people.
Manushi Chillar is a 22-year-old medical student from Haryana, India. Previously, she earned the crown of Femina Miss India 2017 in June this year. She is the sixth Indian woman to be crowned Miss World after Bollywood actress Priyanka Chopra.