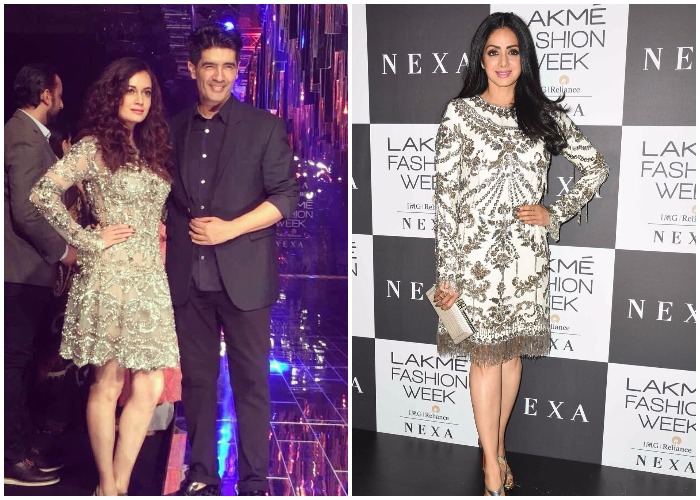 Lakme Fashion Week Winter/Festive 2017 ended in a shower of glamor, Sunday (20 August 2017), as an array of Bollywood stars came to see designer Manish Malhotra unveil his latest collection in Mumbai. 
Actress Jacqueline Fernandez walked the catwalk, showing an embroidered, floor-skimming gown, worn over micro shorts.She later shared her enthusiasm for taking to the runway for the designer. 
"Every single time we come to… we walk for you, there is like so much energy and so much fun," she said. "And you put us in these amazing outfits which always make us look so, so good." 
Also on the runway, actor Aditya Roy Kapur wore total black, in a one-button velvet jacket, with embroidered lapels.
Malhotra's Tales of Indulgence collection also featured baggy, pleated pants with ruched ankles, long velvet coats, jackets with embroidered lapels and double-breasted velvet jackets with fur emphasis on the shoulders. 
Also Read: Help us bring little Aadya home
Adding bespoke menswear collection to his label, Malhotra used black, white and chrome colors to present a mix of evening, club, festive and occasionwear. 
For his signature women wear, Malhotra used crystals, sequins and golden threads to create glitter and glamor. Corsets were a popular choice, teamed with feathered skirts, slit gowns, and traditional Indian long skirts.Speaking at the end of the show, Malhotra explained the collection's focus on the color black.
"I have never done a collection in black for a womenwear, so this is my first ever collection in black, and cocktail dresses is something that I have introduced, and velvet suits and evening wear suits," he said. "So it's a first for me, under my label and I have to do many more."
Also Read: Lakme Fashion Week 2017: Aditya Roy Kapoor, Jacqueline Fernandez sizzle in Manish Malhotra's creation
The closing show of Lakme Fashion Week 2017 was also attended by several Bollywood stars including Sridevi, Karishma Kapoor, Karan Johar, Dia Mirza, and Sushant Singh Rajput.
For more lifestyle news, follow our Facebook page