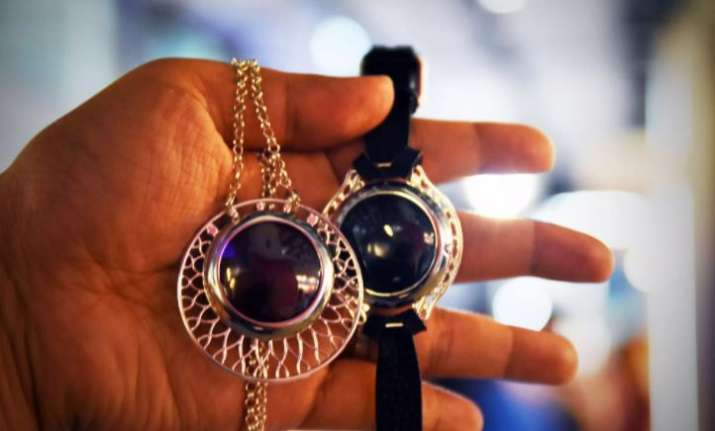 On Thursday, the world observed International Women's Day 2018. Keeping women safety concerns in mind, a gadget has been introduced which can act two way for them. It can be worn as a jewellery and can double up as a safety device as well. Phoenix's technology distribution company Avnet has devised this women safety necklace, collaborating with Innova.
This necklace looks as normal and beautiful as any normal jewellery piece would look. But it's not as simple as it seems. The pendant of this necklace is embedded with a device that will protect the wearer from molestation or any other type of unwanted touch. This gadget works with the help of an application IVY, that functions on your smartphone. Your smartphone can be connected to this device using Bluetooth. If the women wearing the necklace, lands in any grave danger, then she can press the pendant once which will activate the SOS feature of the device. The app will send the alert messages to the saved contacts along with a missed call. You can save maximum three contacts in the SOS contacts list.
If you press the pendant twice, it will trigger an alarm which will alert the people around you at that time. While pressing the device thrice will call the PCR, although the company is still working on this feature.
This device is available on Amazon shopping website as well as on the official website of IVY. It is tagged between a price range of Rs 2,500 to 8,000. The reason behind the cost of this pendant is the stone which is embedded in it. The device is also available in the form of a watch. The company is also planning to manufacture this device at a lower cost so that women of all economic sections can afford their safety.
The IVY necklace operates on a rechargeable battery which works for 3-4 days on charging. It also has a backup battery (A coin cell battery), which can run the device for 10 days. After usage, the non-rechargable battery of the device has to be changed.
According to the company, around 12,000 pieces of this device has been sold so far. The women who have used this device are giving positive feedback to the company's initiative.