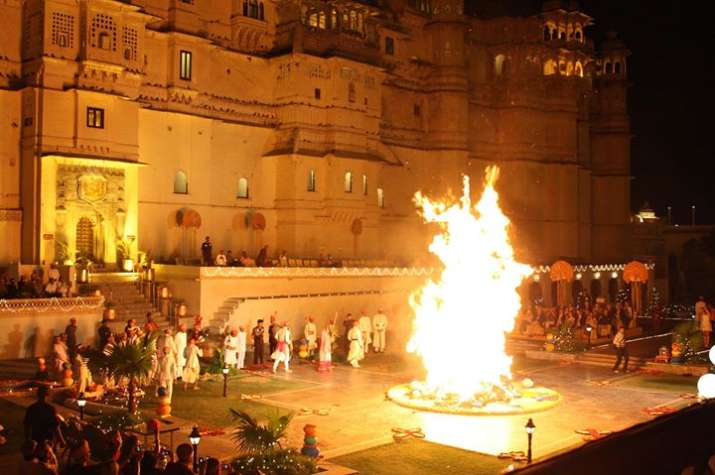 Just a day before Holi, Choti Holi or Holika Dahan is observed. It is also known as Holika Deepak. It is done during the Pradosh Kaal, which starts after the sunset while Purnimaasi Tithi is still prevailing. Bhadra prevails during first half of Purnimaasi Tithi. All the auspicious works should be avoided when the Bhadra exists. According to Drikpanchang.com, the auspicious moment to perform the Holika Dahan Puja is as follows.
Holika Dahan Muhurta: 18:16 to 20:47
Duration: 2 Hours 30 Mins
Bhadra Punchha: 15:54 to 16:58
Bhadra Mukha: 16:58 to 18:45
Next day, Dulhandi is celebrated in which people smear colours over each other's face to express joy.
Holika Dahan Muhurta is chosen on the basis of following criteria.
The first preference for choosing an apt Holika Dahan Puja Muhurta is that it should lie during Pradosh Kaal of Purnimaasi Tithi. Also, Bhadra shouldn't be prevailing at that time. If Bhadra is prevailing during Pradosh but ends before midnight then Holika Dahan is done after Bhadra is over. But if Bhadra is getting over after the midnight, then only Holika Dahan is done in Bhadra, during Bhadra Punchha. One should avoid performing auspicious rituals during Bhadra Mukha. Thus, Holika Dahan is not performed during Bhadra Mukha. Doing Puja during Bhadra Mukha brings bad luck for the complete year for the whole city as well as country.
Things to know during Holika Dahan
While performing the Holika Dahan Puja, one should sit facing North or East direction. Also, Mala, Roli, fragrance, flowers, holy thread, jaggery, whole turmeric, pulses, Bataashe, Gulaal, coconut, five types of grains including wheat and also one vessel full of water should also be with you while performing the Puja.
Take the water vessel in your hand and take rounds of Holika and then light the bonfire.