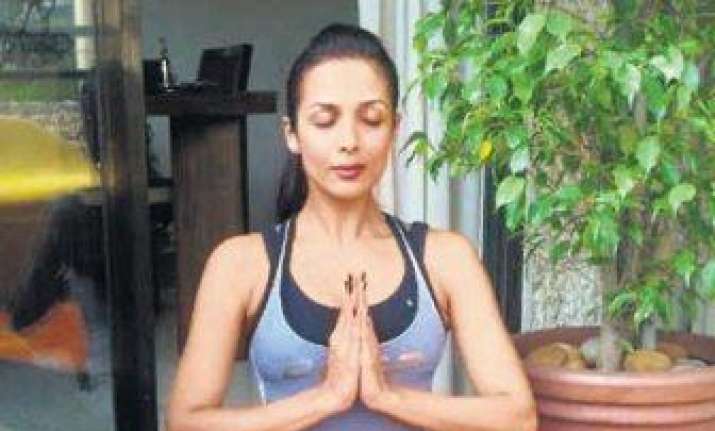 Bollywood and yoga definitely go hand-in-hand. Several celebs such as Shilpa Shetty, Bipasha Basu and Lara Dutta swear by this effective and meditative form of practice. And, style icon and fitness enthusiast Malaika Arora says that the secret to her ageless beauty is none other than yoga. Malaika has already been gearing up for International Yoga Day 2018, which will be celebrated worldwide on June 21.
The 44-year-old actress shared a picture of herself, doing yoga, on Instagram. In the picture, she can be seen sporting a neon green bralet and a pair of printed tights. Malaika captioned the post: "Inhale, exhale and immerse yourself in a world of well-being. Celebrating international day of Yoga."
The picture received over 94,000 likes within a few hours and we are not surprised. Remarks such as "true inspiration to all" and "You give us fitness goals," kept popping up in the comments section.
Malaika Arora feels there is no substitute for a healthy body and says being fit is her oxygen. "Fitness for me is a way of life. It is like my oxygen! Nothing else is truly yours than your own body, and there is no substitute for a healthy body. I would urge everyone to stay fit and invest at least 30 minutes each to staying fit. It doesn't take much," Malaika was quoted as saying in  a recent interview.
Bollywood and Yoga
Shilpa Shetty has been practising yoga for years. Her perfectly toned body is an envy for many. She is considered as one of the fittest actresses in Bollywood. Shilpa is also considered as fitness icon which she credits all to Yoga.
Another Bollywood actress who cannot live by Yoga is Kareena Kapoor Khan. No matter how busy she is, Kareena makes it a point to devote at least two hours to Yoga every day. She performs power yoga with surya namaskar and ashtanga yoga. She does not perform Yoga to stay fit, but also to destress.