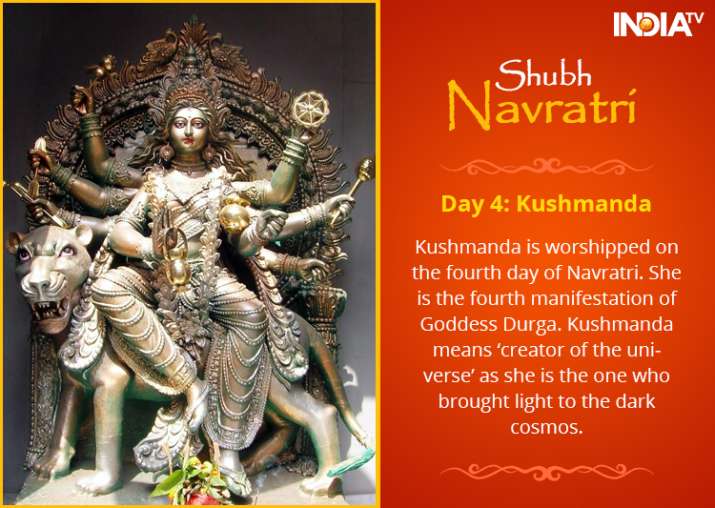 During the auspicious nine days of Navratri, nine avatars of Goddess Durga are worshipped. Sunday is the fourth day of Sharad Navratri which began on September 21. Devotees will worship the fourth manifestation of the Goddess, Kushmanda on this day. The name Kushmanda means cosmic egg and she is believed to be the creator of the universe just with her pleasant smile. She resides at the centre of sun so that energy can be distributed to all living beings on the earth.
Maa Kushmanda
Since she is regarded the creator of universe, the goddess is also called Adiswarup or Adishakti. Riding on the lioness, she is said to have eight arms. While she holds kamandal, bow, arrow and kamal in the right hands, the Goddess holds amrit kalash, rosary, gada and chakra in the left hands. With radiant golden complexion that is as luminous as that of the sun, Maa Kushmanda blesses her devotees with ashtasiddhis and navniddhis. Worshipping the goddess brings health, wealth and prosperity.
Maa Kushmanda Puja Vidhi
On the fourth holy day of Navratri, the goddess is offered pumpkin and red colour flowers, saree, bangles, etc. She is worshipped with green cardamom. Using green coloured asana during puja is considered auspicious. After worshipping the kalash, pray to the goddess to bless you with good health and wealth. Serve bhog of fruits to her and then distribute it among family and friends.
Maa Kushmanda's Mantra
Chanting the mantra- Om Devi Kushmandayai Namah (ॐ देवी कूष्माण्डायै नमः) while performing the puja will please the Goddess. You can also recite the prathna - Surasampurna Kalasham Rudhiraplutameva Cha, Dadhana Hastapadmabhyam Kushmanda Shubhadastu Me (सुरासम्पूर्ण कलशं रुधिराप्लुतमेव च दधाना हस्तपद्माभ्यां कूष्माण्डा शुभदास्तु मे). As Chaturtha Tithi is entire day, you can offer prayers at any time.