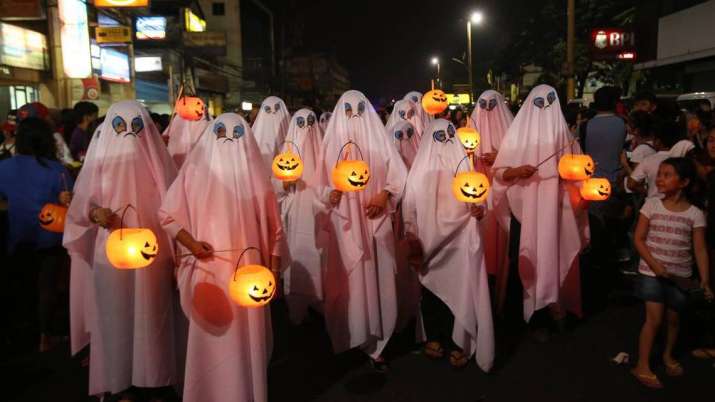 Halloween is celebrated on 31 October, which is the eve of the Western Christian feast of All Hallows' Day, also known as All Saints' Day. The origins of Halloween came from the ancient Celtic festival of Samhain. Interestingly, Halloween is also known as: All Hallows' Evening, Allhalloween, All Hallows' Eve, or All Saints' Eve. 
Halloween is the spookiest time of year and some people go to Halloween parties dressed in their most ghostly getup, while others stock up on themed sweets and chocolate. But do you actually know why we celebrate it, and why we go trick-or-treating?
Will's Black Ops 4 Pumpkin done.
Surprisingly hard to cut thin, clean, straight edges on a ball of vegetable.#Pumpkin#Halloween pic.twitter.com/WIPqhn69NU

— Graeme Fletcher (@Fletch12321) October 28, 2018
Make your car look like a scene from #NightmareBeforeChristmas for #trunkortreat this#Halloween! #JackSkellington #SpiritHalloween pic.twitter.com/JwouE1Ouid

— Spirit Halloween (@SpiritHalloween) October 29, 2018
The origin of Halloween in the UK has roots in the Celtic festival of Samhain. Samhain means "summer's end" and was a celebration of the end of harvest season and the beginning of the "dark half" of the year. It was basically a way for the ancient Celts to say goodbye to the warm weather and hello to shorter days. They also believed the "veil" between the worlds of the living and the dead was at its thinnest during the festival.
Ready for Halloween👻#Halloween pic.twitter.com/IyoWwFuGMM

— 천사 (@woaini_1004) October 31, 2018
🌟🎃Happy Halloween👻🌟
めいてつ・エムザ店の店頭ボディも本日まで期間限定ハロウィン仕様です!😊
10月にご来店のお客様を紹介します♪#ハロウィン #きものレンタル #女子旅 #ひがし茶屋街 #近江町市場 #めいてつエムザ #金澤着楽々 #当日予約可能 #飛び込み可能https://t.co/UBrSLn4ffm pic.twitter.com/6aerZo4wwg

— 金沢着物レンタル・金澤着楽々 (@kanazawa_kirara) October 31, 2018
Halloween table setting. by anjelagr pic.twitter.com/B9YcL4vZhv

— Bakunyah (@bakunyah) October 31, 2018
People across the globe are celebrating the spooky night with all their might. Just take a look at Twitter. The good, the bad and the ugly are all there bringing the spirit of Halloween to social media.
It's Halloween time – crisp air and crunchy leaves, the flickering of lighted pumpkins, scary movies, costumes, spooky houses and, of course, candy and trick-or-treating. But why do we do it? Is it just a fun excuse for kids to dress up and solicit sweets from strangers, or is there a deeper meaning behind the most frightening of holidays?