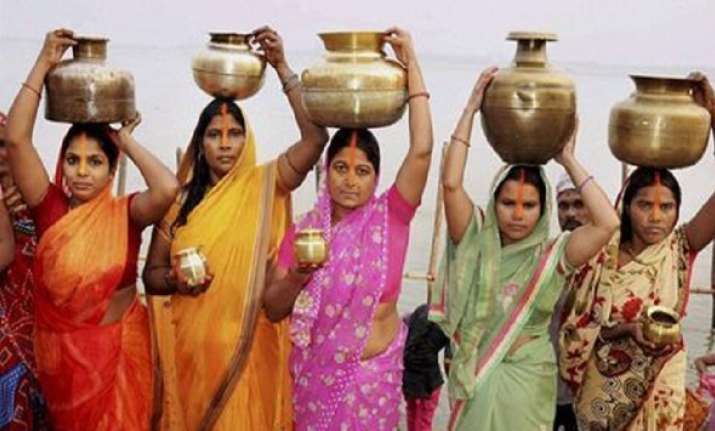 It is October 24 and Chhath Puja 2017 celebrations has started in full swing across the nation. In this popular Hindu festival, which is also known as Surya Shashti, women sing songs that invoke Surya Devta and Chhath Maiyya. The songs are crooned in several languages such as Bhojpuri, Maithili, Magahi and Angika. The Chhath Puja songs form an important part of the celebrations where devotees urge the Sun God to rise on time on the day of Chhath. This year Chhath Puja is being celebrated from 24th October 2017 to 27th October 2017.  
Here, we have listed out the top songs for you to play during the auspicious festival of Chhath.
Kaanch Hi Baans Ke Behengiya
Crooned by Anuradha Paudwal, this Chhath song is a request by the worshipper to be careful of all the offerings that are made to appease the Sun God.
Hey Chhathi Maiya
​Sung by Sharda Sinha, this famous track is addressed to Chhati Maiya. The song elaborates the preparations made during Chhath Puja and all the hardship that the devotee went through to make the celebration a successful one.
Kelwa Ke Paat Par
This song talks about the prayer offerings of devotees to the Sun God which can be seen through the leaves of a banana tree.
Aadit Manaila
The song is crooned by Anuradha Paudwal and, talks about the preparations that the devotee has done to fulfill his/her wishes.
Kabahu Naa Chhooti Chhath
Crooned by iconic singers Bharat Sharma Vyas and Alka Yagnik, this new Chhath song will take you a festive mood right away.
Pahile Pahil Chhati Maiyya
This song beckons the out-stationed/diaspora to visit their native place for the festival.  Here's the viral video that won millions of hearts.
Aragh Ke Ber
This well-known Chhath puja song crooned by  Anuradha Paudwal talks about the offering given to Surya Devta during sunset and during sunrise. 
For more entertainment news and updates, follow our Facebook page