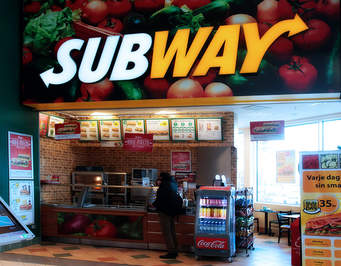 Subway, one of India's most prominent fast food chains, is celebrating its 15th birthday today in India with a special offer for its customers. 
Subway lovers can have a feast today, with the fast food chain rolling out an offer that will allow customers who order a six inch sub, a salad and a drink at any Subway restaurants to get another sub free of cost. 
This buy-one-get-one offer will be applicable to all the Subway stores across India. 
Subway opened its first restaurant in New Delhi in 2001 and today runs restaurants across more than 70 Indian cities. So, in celebration of its 15th year in India, Subway has also started a campaign on social networking sites with the hashtag #LoveToShareDay. 
"The intent behind this campaign is to not just connect with our guests but also indulge them through this offer and help make their day as special as it is for SUBWAY," Sanjiv Pandey, Marketing Manager, Subway Systems India Pvt. Ltd said.
"This is an occasion for us to show our gratitude and appreciation to our guests who made Subway a success in India. Subway is not just about food and service, we also want our customers to take away great memories from our outlets," saoid Ranjit Talwar, head of Subway Systems India Pvt Ltd.
So, if you're a Subway fan, just visit a Subway outlet today and order a 6-inch sandwich, a drink, and a cookie, to get another sandwich of your choice for free.
Well, that sounds really cool, doesn't it?