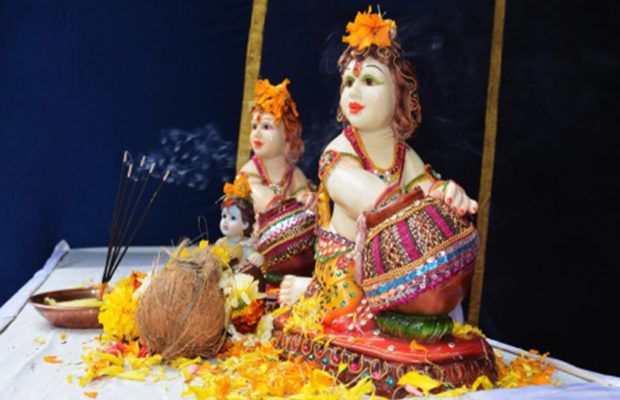 Govardhan Puja 2017 is being celebrated on October 20 across the nation. On October 19, 2017 the festival of lights, Diwali was observed amid fun, food and celebration. Today, it is Govardhan Puja, which is also known as Bali Pratipada. On this auspicious day, devotees offer their prayers to Lord Krishna as it is believed that today's marks the victory of Krishna Kanhaiya over the arrogance of Lord Indra. Devotees also offer prayers to the pile of grains, which symbolizes the Govardhan mountain.
Muhurat 
Pratipada Tithi Begins at 12:41 am on October 20, 2017
Pratipada Tithi Ends at 1:37 am on October 21, 2017
Govardhan Puja Pratahkal Muhurat — 6:28 am to 8:43 am Duration: 2 hours 14 mins
Govardhan Puja Sayankal Muhurat — 3:27 pm to 5:42 pmDuration: 2 hours 14 mins
Puja Vidhi
People prepare 56 or 108 kinds of meals cooked with wheat, rice, gram flour on Govardhan Puja. The Vegetarian delicacies are then offered to Lord Krishna. To mark the festival, a hillock is created from cow dung which is referred as Govardhan is decorated with flowers. The devotees walk all the way round the hillock to pray Lord Govardhan for their wellbeing and to safeguard their families. 
Significance
Govardhan Pooja coincides with Gujarati New Year day. On this Hindu festival, people worship mountain as it provides shelter to the people under severe conditions. During the Govardhan Pooja, devotees bath their cows and decorate them with flowers and garlands.
Govardhan Puja: Lord Krishna Aarti
ॐ जय श्री कृष्ण हरे, प्रभु जय श्री कृष्ण हरे
भक्तन के दुख टारे पल में दूर करे. जय जय श्री कृष्ण
हरे....
परमानन्द मुरारी मोहन गिरधारी.
जय रस रास बिहारी जय जय गिरधारी.जय
जय श्री कृष्ण हरे....
कर कंचन कटि कंचन श्रुति कुंड़ल माला
मोर मुकुट पीताम्बर सोहे बनमाला.जय जय
श्री कृष्ण हरे....
दीन सुदामा तारे, दरिद्र दुख टारे.
जग के फ़ंद छुड़ाए, भव सागर तारे.जय जय
श्री कृष्ण हरे....
हिरण्यकश्यप संहारे नरहरि रुप धरे.
पाहन से प्रभु प्रगटे जन के बीच पड़े. जय जय
श्री कृष्ण हरे....
केशी कंस विदारे नर कूबेर तारे.
दामोदर छवि सुन्दर भगतन रखवारे. जय जय
श्री कृष्ण हरे....
काली नाग नथैया नटवर छवि सोहे.
फ़न फ़न चढ़त ही नागन, नागन मन मोहे. जय जय
श्री कृष्ण हरे....
राज्य विभिषण थापे सीता शोक हरे.
द्रुपद सुता पत राखी करुणा लाज भरे. जय जय
श्री कृष्ण हरे....
ॐ जय श्री कृष्ण हरे.