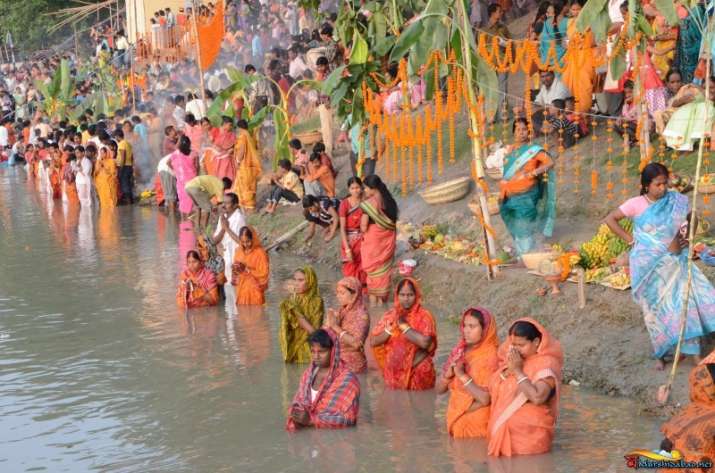 Considered as one of the most important Hindu festivals, Chhath Puja 2017 is being celebrated from 24th October 2017 to 27th October 2017. Chhath is observed in the states of Bihar, UP and adjoining country Nepal. Chhath Puja is also known as Pratihar, Dala Chhath, Chhathi and Surya Shashthi by many people. The four-day festivity is dedicated to Surya, the Hindu Sun god and his wife, Usha. Devotees, over the days, observe fast and offer their prayers. They also express their gratitude to the sun god for sustaining life on earth.
Chhath Puja Muhurat timings:
Sunset on Chhath Puja Day = 17:40
Sunrise on Chhath Puja Day = 06:28
Shashthi Tithi Begins = 09:37 on 25/Oct/2017
Shashthi Tithi Ends = 12:15 on 26/Oct/2017
Chhath Puja Celebrations
The four-day festival starts four days after Diwali.  This is how the devotees observe the festival.
Nahay Khay: The first day of Chhath Puja, devotees take a dip, preferably in the Kosi river, Karnali and Ganga, and carry home the holy water to prepare the offerings.
Lohanda: The second day, the devotees observe a fast for the whole day, which ends in the evening a little after sunset. After worshipping the Sun and the Moon, they prepare offerings of kheer, bananas and rice for their family. After consuming the offering, they fast for 36 hours without water.
Sandhya Arghya (evening offerings): After preparing the prasad, the devotees take a dip in the holy water body in the evening and worship the Sun god and Chhathi maiyya. They offer the evening offerings amid folk songs.
Usha Arghya: The fourth day, devotees go to the holy waters and offer morning offerings or 'Usha arghya' to the sun, following which they break their fast.
Puja Vidhi
​People who fast on Chhath follow rigorous, no-food, no-water regime. With Thekua prasad, five types of fruits, sugarcane and milk offering, they worship Sun God and Chhathi maiya.