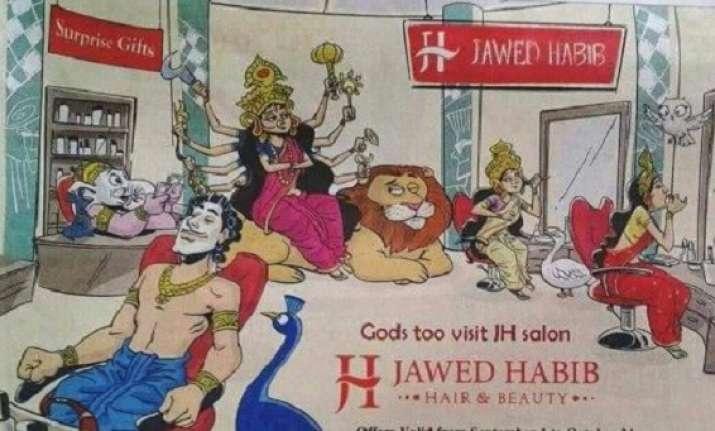 Famous hair stylist Jawed Habib, who runs a chain of hair salons across the country, found himself surrounded by internet trolls and backlash this week. What happened was, his brand Jawed Habib posted a pre-Durga Puja ad featuring Hindu Gods and Goddesses getting themselves pampered in the salon. It was printed with a tag line 'Gods too visit JH salon'. Only meant for promotion, the ad triggered a heated chain of Twitter reactions, where many Indians were offended by his religious remarks. 
People, in the count of hundreds, took to Twitter and other social media to express their disappointment with the celebrity hair stylist. Some said that Habib has brought bad name to his brand by playing with religious sentiments of the people, while other bashed him for outrageously mocking Hindu religion. Some even asked people to embargo Habib's salon for this insensitive ad. 
Amid massive backlash, there were few who backed the hair stylist citing that they found nothing insensitive about the ad. They backed him saying that the ad only represented Hindu deities in a modern setting, which has been done before as well. 
Dear #JawedHabib!
Very unfair that only Hindu Gods visit your shop! How can you not serve Gods of other religion in this #SecularIndia? pic.twitter.com/yBMM8ISW8Q

— Punit Shrivastava (@WunderTraveller) September 5, 2017
Boycott him guys#JawedHabib has insulted our Hindu deities pic.twitter.com/pcec1hiKtq

— Gitanjali D.S 🇮🇳 (@Gitanjali_DS) September 6, 2017
#JawedHabib Mohammad Sahib and Christ are also God. Will you display them also like Hindu Gods?

— Naresh (@Naresh71899006) September 5, 2017
Can #JawedHabib even think of depicting religious place of his faith as barber shop. How does apologising help? pic.twitter.com/sG1AwG5wFf

— Neeru Bahl (@Neeru_Bahl) September 5, 2017
Some even backed his ad finding nothing wrong with it. 
RW took 'offense' at #JawedHabib ad when #Bengalis dont have a problem...thats coz for us, #DurgaPujo is a daughter's homecoming.

— Saileena (@saileenas) September 6, 2017
I dont understand what is so wrong with the creative... Good lord.. people have lost it completely. #JawedHabib pic.twitter.com/ozlrV8W1uE

— sutapta (@sutapta) September 7, 2017
What is wrong in this ??
Not finding anything insulting in this advertisement by @JH_JawedHabib pic.twitter.com/3mLiZFsd0W

— अलका (@ALKAAGARWAL9) September 5, 2017
After the hullabaloo on social media, Jawed Habib himself took to Twitter to explain the situation and even posted a video to apologise for the ad. He also added that he has only one religion, which is that of the scissors. He also elaborated that the advert was posted by a Kolkata franchise without his permission. He apologised for the ad in the video, and clarified that he had no intentions of hurting any religious community. 
September 5, 2017
September 5, 2017
September 5, 2017
For more Lifestyle news and updates, follow our Facebook page