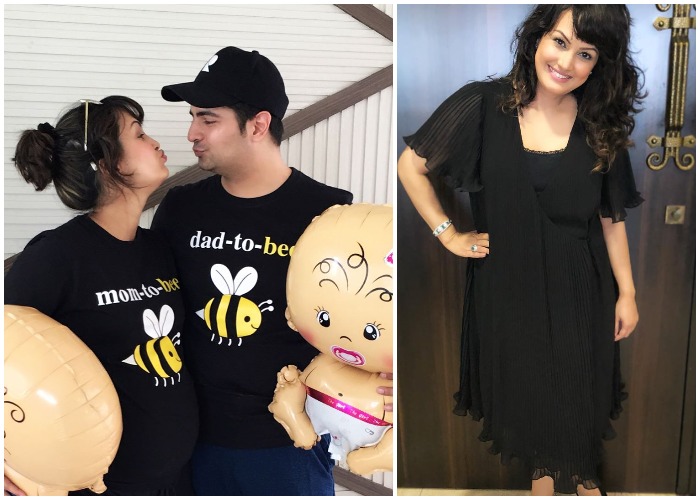 Former Yeh Rishta Kya Kehlata Hai actor Karan Mehra and his darling wife Nisha Rawal welcomed their first baby on June 14, 2017. Post pregnancy, Nisha had gained a lot of post-partum weight. But now the actress is working out hard to shed off her extra flabs. After Kareena Kapoor Khan, Shilpa Shetty, it seems like Nisha Rawal is going to be the fittest mommy of the showbiz industry. But before we take you through the weight loss journey of Nisha, have a look at some of her cutest pre-pregnancy pictures
After giving birth, she even shared a throwback picture of herself, showing her working out on her body.
After giving birth to baby Kavish, Nisha Rawal was back in the gym to get in shape. Surprisingly, in a short span of time, she lost a considerable amount of weight and looked slimmer in her latest pictures. Fans were curious to know how she managed to lose weight in such a short time. So the actress has revealed her fitness regime herself.
She started her New Year with a resolution to get back in shape in 2018. Here's the video of her New Year resolution.
Let's have a look at her fitness regime for post-partum weight loss.
she captioned, "That's what a powerful Monday looks like to me!.
Squats & lunges.
Burpees with weight ball.
Jump squat on trx.
Dumbell snatch.
1 mins run on treadmill followed by battle rope.
Leg raises on decline bench.  
In one of her video captions, she wrote:
For all of you who would like to know what I am doing for my workouts. I am taking it one day at a time trying to be slow but steady. As of now I workout 5 days a week which includes 3 days of weight training under the guidance of my trainer & 2 days of cardio with 2 break days for my body to recover since I have started after more than a year. During my entire journey of pregnancy I gained around 22kgs so I started at 60kgs and went on to 82kgs & at the start of my goal I am already 9kgs less since u do lose the baby weight (which includes the baby, placenta, amniotic fluid, water retention etc.) & then breastfeeding makes u lose a few extra kgs since breastmilk contains a considerable amount of fat along with other vital nutrients for the baby. This is going to be a tough journey since my goal is to get fit & build endurance & thus become a better version of my pre-birth body. I don't regret the weight gain & don't look down on it at all. It reminds me of how my body kept changing & the growing baby during the 9-month-phase. I am no expert for you all to follow my fitness routine since every body is different & has different potentials & goals but since so many of you have written to me I wish to encourage all those who wish to get motivated by my journey. My aim is to convey that hard work & determination can transform everything around u.
Today was day 3 of weight training & I did the following exercises:
Lunges/ seated rowing
Leg curl/ peck deck
Squats
Bridge
Burpees
Shoulder press
Leg raises
Crunches
Chin up all the new mommies, if weight gain is what disturbs you then I have just posted my weight gain pix from today's workout.
Just take a deep breath, dust our shoes off, tie that pony high & lets work on this together