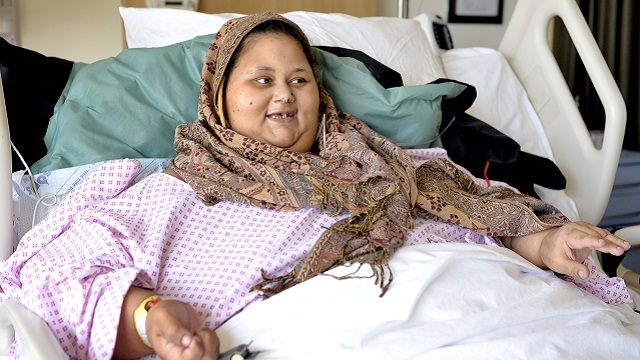 Eman Ahmed died at 4.35 a.m. due to "complications from the underlying comorbid conditions, including heart disease and kidney dysfunction", the Khaleej Times reported. Eman was admitted to the Abu Dhabi hospital in May and was under the supervision of over 20 doctors from different speciality, who were managing her medical condition from the time she arrived in the United Arab Emirates.
The 36-year-old, who initially weighed 500 kg, had undergone a drastic weight reduction surgery in Mumbai in March. Eman had shed at least 300 kg since undergoing several medical procedures, according to reports. She was brought to Mumbai from Alexandria on February 11 by an Egypt Air fully-equipped cargo flight. Eman underwent the weight reduction surgery on March 7 at the city's Saifee Hospital and was put on oral fluids.
However, later Eman's sister Shaaima Selim alleged on social media that the patient was not treated for weight loss properly and her health had deteriorated at the privately-owned hospital in Mumbai. Shaaima accused bariatric surgeon Muffazal Lakdawala, Chairman of the Saifee Hospital Institute of Minimal Access Surgical Sciences and Research Centre, of being "a liar" and had posted on Facebook videos and photos purportedly raising doubts over the patient's progress.
Morbid Obesity, a serious health condition
When one's basic body functions like breathing and walking start getting hampered due to obesity, it is called Morbid obesity. Morbidly obese people are at greater risk for diabetes, high blood pressure, sleep apnea, gastroesophageal reflux disease (GERD), gallstones, osteoarthritis, heart disease, and cancer.
Health conditions that can lead to weight gain
Hypothyroidism, an underactive thyroid gland that slows metabolism and causes fatigue, weakness and obesity.
PolyCystic Ovarian Syndrome or PCOS, which affects up to 10 per cent of women of childbearing age can also lead to obesity along with reproductive problems. 
Cushing's syndrome results from an overproduction of the hormone cortisol by the adrenal glands and is characterized by weight gain in the upper body, face and neck.
(With input from IANS)
For more lifestyle updates follow our Facebook Page