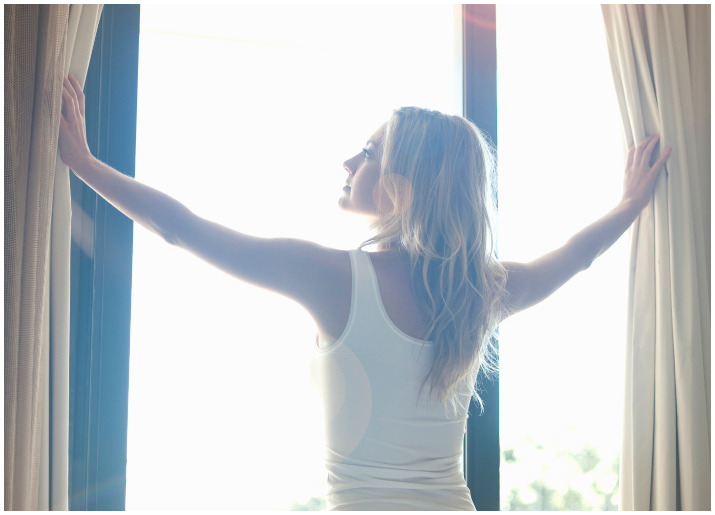 Mornings can be tedious at times when we have lots to do and prepare for the day. In this case, it is important to follow every morning ritual on time be it catching an office cab or eating a healthy breakfast. We all know this but fail in performing it.
This is why, we bring you few tips to catch instant happy vibes in the beginning of the day. All you need to do for turning every morning into a happy one is defined below in five simplest ways to follow!
1. Get sunkissed - Exposing yourself in the daylight can keep your body to energised throughout the day. For the morning beams of light, you can spend few minutes in your balcony, or take a short pleasing morning walk, or visit a park just to wave at your friends.
2. Little stretching isn't bad for health, is it? - Physical exercise can help a body to remain in shape and interestingly, also helps in releasing day-to-day stress. But in case, you aren't a fitness freak which you actually should be -keeping the unhealthy lifestyle of every person's busy lives in mind, here's the trick. In terms of physical activity, you can also join light sports, dance sessions, or take zumba, aerobics, gymnastics classes.
3. Buy a tiffin-bottle set for yourself! - Remember how we all use to be so excited going to school after summer vacations because of our new school accessories. The same way, buying a new tiffin-bottle set will motivate you to eat plenty of healthy food and drink good litres of water. Maintaining a healthy diet plays a major role to keep us happy and smiling all day.
Tip: Drink a tall glass of water every morning as soon as you wake up. Also, keep your breakfast heavy to charge your energy levels for the rest of the day!
Also Read -5 foods and beverages to have for happy mood
4. Walk on the red carpet - Your only thought while dressing up in the morning is that you are going to walk on a red carpet. Take a note of this thought and dress up like a diva (little exaggerated, depends on your work!) every day. Basically, the point here is dressing up nice can lift your mood and contribute to happy mornings!
5. Positive attitude is the key - Positive thoughts and attitude towards any troublesome situation can help you live better. Screaming and cribbing about the same thing every day isn't the solution. But changing your attitude and seeking for solutions with positivity can definitely better the situation.
Also Read -How to overcome negative thinking and depression
Also Read -10 Best Inspirational Quotes to Relieve Your Stress