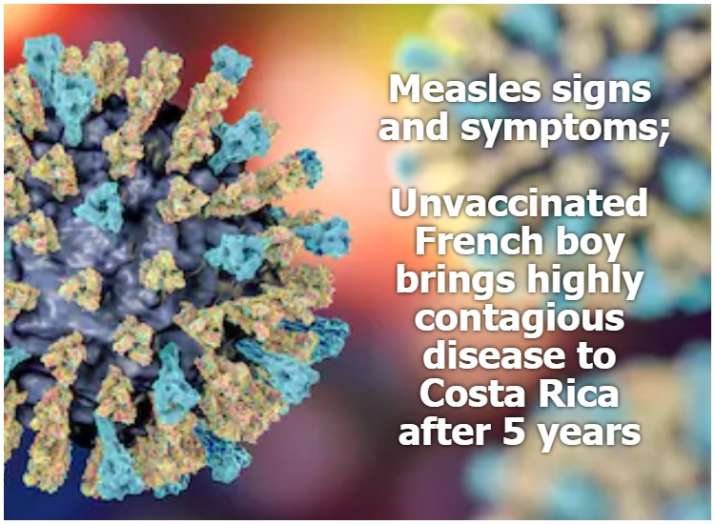 A country is considered to be rich from various aspects like its economic status, political balance or socio background. Health and hygiene also plays an equally important role in a country's development. This is why government introduces many health plans to ensure a healthy life for its citizens. In such cases, health plans against highly contagious infectious diseases like Measles, Flu, Cholera, and Tuberculosis are designed and implemented.
Today, we will be talking about one such disease known as Measles. A highly contagious viral disease, measles remains an important cause of death among young children globally, despite the availability of a safe and effective vaccine. Speaking of this deadly disease, recently, an unvaccinated French boy is suspected of having reintroduced measles to Costa Rica after the Central American country had been free of the disease for five years.
Since 2014, a country in Central America -Costa Rica has been measles-free and now this five-year-old French tourist who is suspected with this infection becomes a reason for increased anxiety about the effects of the worldwide anti-vaccine movement. Yes, the reintroduction of measles to Costa Rica comes a month after the World Health Organisation (WHO) warned that "vaccine hesitancy" (the reluctance or refusal to get immunised) is in the top 10 of the worst health threats facing humanity in 2019.
But as reported by Independent, Costa Rica's health ministry said the infected French five-year-old had arrived in the country with his parents on 18th February. They said the boy was now being treated and kept in strict isolation at the Monseñor Sanabria Hospital in the port town of Puntarenas.
The health ministry is seeking to establish who may have come into contact with the infected child, including during his flight, at a San José hotel where the family stayed for one night and at the beach village of Santa Teresa, near Puntarenas, where they were having their holiday. The French authorities have also been informed about the boy's illness, so they can track whether anyone else has been infected in the European country.
The health ministry issued a statement saying: "Our country enjoys very good vaccination coverage in general. However, in order to avoid particular cases and their possible complications, it is important that those in charge of minors ensure that children have a complete vaccination scheme.
The ministry of health requests that if you know of someone who has symptoms of measles (fever, nasal congestion, cough, conjunctivitis, skin rash that starts in the head and expands through the body to the feet, reaching the hips around the second day) it is vital that they notify the health authorities as soon as possible.
Measles is transmitted via droplets from the nose, mouth or throat of infected persons. Initial symptoms, which usually appear 10–12 days after infection, include high fever, a runny nose, bloodshot eyes, and tiny white spots on the inside of the mouth. Several days later, a rash develops, starting on the face and upper neck and gradually spreading downwards.
Severe measles is more likely among poorly nourished young children, especially those with insufficient vitamin A, or whose immune systems have been weakened by HIV/AIDS or other diseases. The most serious complications include blindness, encephalitis (an infection that causes brain swelling), severe diarrhoea and related dehydration, and severe respiratory infections such as pneumonia.
For all the latest Lifestyle updates, check out our Facebook page!