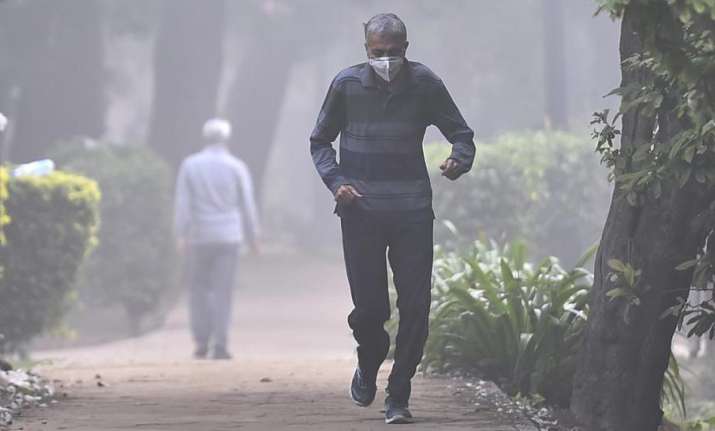 The air quality in Delhi has gone from bad to worse. It remained beyond the "severe" level for the third day on Thursday. Authorities have warned the dusty conditions are likely to prevail for another 3-4 days and advised people to avoid staying outdoors for long hours. 
The quality of air deteriorated as a result of dust storms in western India, particularly Rajasthan. It has increased coarser particles in the air, said the Central Pollution Control Board. 
In Delhi-NCR, the PM10 level (presence of particles with diameter less than 10mm) was beyond severe at 796 and 830 in Delhi particularly. It has led to hazy conditions. 
Here are things you should do to keep yourself and your loved ones safe:
Stay covered: When you are outdoors, wear a mask and ensure your eyes, nose, mouth are covered. It is not a 100 percent effective, but it will certainly limit the amount of toxins you inhale.
Eating habit: Consume fruits and vegetables that are rich in vitamin C. In order to fight smog-related air-borne toxins, have fruits like lemons, melons, grapes, papaya, kiwis. In vegetables eat broccoli, peas, cauliflower, cabbage, okra, red bell peppers, in your daily meal.
For those suffering from respiratory problems: Consult your doctors soon. Keep all prescribed medicines and inhalers handy as a sudden rise in pollution can cause an asthmatic attack. 
Home remedies: There are some tips. Try to take a steam with a few drops of eucalyptus oil regularly. It will relax your air-passages. It will also assist your body in removing the harmful substances. 
Also, try to include tulsi, neem and haldi in your everyday diet. It will give your body the extra edge it needs to combat the harmful air.
WATCH VIDEO: Delhi-NCR air quality likely to remain 'severe' for next 3 days due to dust storms from Rajasthan