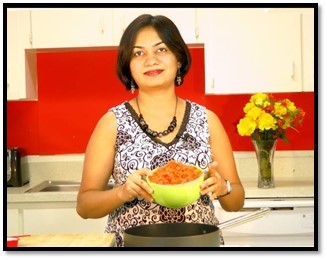 Madhura Bachal is a culinary and gourmet chef who has a bi-lingual YouTube channel called Madhura's Recipe with over 430,717 subscribers. Based out of Pune, Madhura's cooking channel is one of the top cooking channels in India. Her recipes suit every palate and are a hit on the internet. This world-renowned chef has two YouTube channels, one in English and another in Marathi. Her fan following extends internationally to countries such as the USA, Canada and many more.
In an exclusive e-mail interview with India TV, Madhura threw some light on her YouTube journey. Let's have a look: 
How did you get the idea of starting a YouTube channel? As in what inspired you to be a Youtuber? Did you always have a plan, or the idea just clicked?
Madhura: My cooking journey started only after I got married. Believe me, I had never tried out cooking before I tied the knot. However, I was always observing my mother in the kitchen and this helped me when I actually started cooking. I was completely disappointed with the Indian food in the U.S. and as a foodie, I had no option but to cook after we moved to America in 2007. The journey of madhurasrecipe.com started at the end of 2009 when my husband's colleagues started asking me for the recipe for special dishes he took to work in his lunchbox. His friends were big fans of my cooking and would continuously prod me to share the recipes. They were the ones who suggested that I start a blog with recipes in it. 
But then my husband went a step beyond that and started a website. He did a ton of research online and registered a domain. He worked late night hours to design the entire website all by himself, despite having a full-time job. Then he presented madhurasrecipe.com as my birthday gift in January 2010. We didn't even have a good video camera. We completed all our first recipes using the normal digital camera. Initially, we only had handheld cameras during shoots and later we borrowed my friend's tripod for trial purposes for a few days. This is how madhurasrecipe.com was born. But we filmed over 100 recipes in next three months and got a tremendous response. Eventually, I joined hands with Qyuki in April 2017.
Apart from the two YouTube channels that you have based on cooking, and another YouTube channel that is based on beauty, do you have any plans to cater any other skill also?
Madhura: Yes definitely. I had already tried different things like nail art, beauty, home remedies, Rangoli and Mehendi on my Madhuras Style channel but I had seen more acceptance from people towards food content. So, preferred to continue in food. But I always love to work on creating something new.
With Punjabi dishes, authentic Maharashtrian food on your hit list, what are the other cuisines that you want to feature on your channel?
Madhura: Yes, they are indeed the top popular recipes but the area which I love is baking. Even people love cake and baking recipes a lot, especially on the English Channel.
Going by your huge subscribers' list, the question that I want to ask you is that what demands do the subscribers make and how do you deal with the hate comments, if there's any? 
Madhura: Oh, demands...Yes, there are so many demands on a daily basis. On an average, I get at least 40~50 recipes requests on daily basis and the list goes on. I am already piled up with over 400 recipe requests from my fans and believe me it's never ending list that I am maintaining. 
I love hate comments. When I started these channels initially I use to take them very personally and seriously. Sometimes frustrating as well...But nowadays I really enjoy hate comments. They always make me work harder and improve further which are genuine... of course few comments I simply ignore...
Being a world-renowned chef doesn't come easy. It surely requires a lot of hard work and time. So, please throw some light on your journey- the struggles you faced. How do you manage your family and your work simultaneously?  
Madhura: Yes, definitely it comes up with lots of hard work. Currently, I am running 3 main channels which require total 8 recipes to go live on weekly basis. Any recipe to go live need to be filmed minimum 2 weeks prior since it involves series of work that needs to be done like shooting, editing, Website and social media readiness, photos and thumbnails updates and all. Initial several years, I used to manage all this work along with my husband but nowadays we have people assigned to other admin/editing work. 
Being a homemaker it's always a challenging task managing such a workload along with managing and all home chores and kids. My day schedule is very busy. I do take care of all my household stuff by 11 am and then I start preparing for my recipe and shoots. Camera setup itself takes over 45 mins. I need to be time conscious since I need to wrap my entire shoot before my son comes back from daycare. Once he comes in then the entire shoot gets on hold and I need to take care of him. So, it gets sometimes difficult to manage this. 
Few lengthy recipe shoots run for 4-5 hours or more than that and I need to be very much patient while working on this recipe. Another challenge is to get all required ingredients from the nearby store. Sometimes it takes lots of time or multiple visits to get particular ingredients.
​