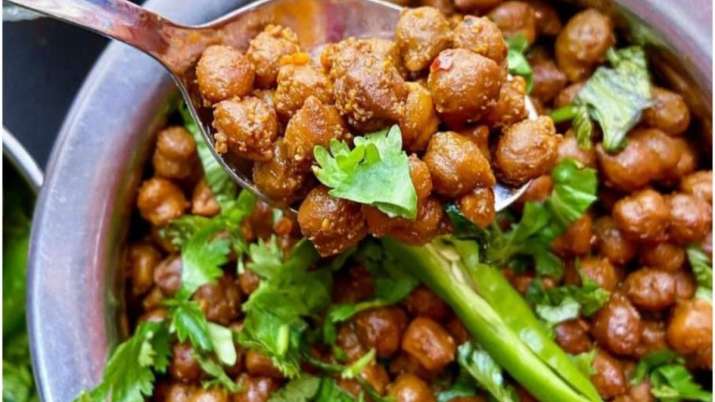 Some people keep the first and last fast while some for all the nine days and worshiping Maa Durga during Navratri. In the wake of the same, some people offer fast on Ashtami and offer dry black chana to Maa Durga in worship. This bhog is very much liked by the Goddess. Today we tell you a simple recipe of sukhe kaale chane that is used in the practice of fasting for Navratri. This recipe is so easy that anyone can make it at home comfortably. Check it out for yourself:
INGREDIENTS:
Black gram soaked overnight
Finely chopped ginger
Green chilli
Coriander leaves
Mango powder
Chana Masala
 Ground red chili
 Asafoetida
Turmeric
Salt
Refined
RECIPE:
First of all, clean and wash the black gram and then soak it in water for the night. After this, remove its water in the morning on the second day. After this, add gram and water in the cooker. Add a little salt to this water so that the gram does not become too dark and the gram becomes salt. After adding the gram and salt, close the cooker and apply 5-6 whistles. When the whistle comes out after whistling in the cooker, take it out in a pan. Now let the gram cool down.
When the gram cools down, take out a quarter of it and mash it lightly by hand. This is so that the gram masala can thicken. Now cook the gas on low flame. Add about 2 teaspoons refined to the cooker. Once the oil is hot, add one teaspoon cumin, half teaspoon asafoetida, one and a half teaspoon gram masala, half teaspoon turmeric, less than half teaspoon red chilli, one teaspoon mango powder, green chopped chillies and chopped ginger. After this stir the spices and immediately put both the mashed chickpeas and boiled proven chana together.
Now mix it well with the buttermilk. Fry it for about 5 minutes and add green coriander in it. After 5 minutes, add about a glass of water and salt to taste. Add gram again and turn off the cooker and turn the flame on high. Turn off the gas of the cooker after 3-4 whistles. When the whistle comes out, take the gram out of the pot. Now your gram is ready to eat.