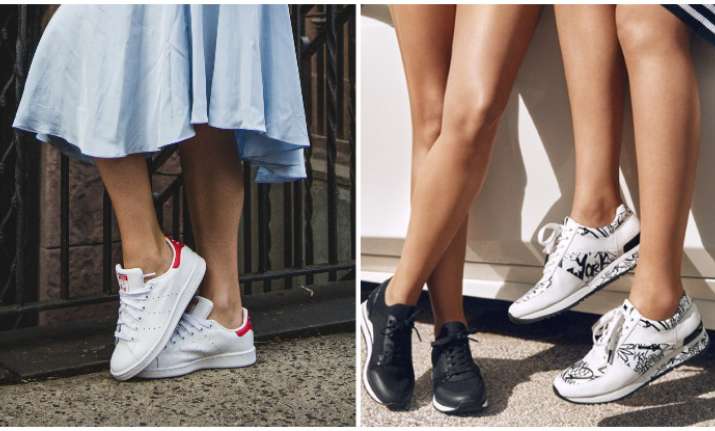 The first day at college is probably the most important day of your life. To make sure you look your best, start it off with a bang.
Just like clothes, one should invest dedicated time on shopping right footwear as well. So, today, we bring you a list of some trend that can surely make a lasting impression on your friends!
1. Leather lace-ups - If you're looking for a pair of shoes that are classic, yet will help you stand out from the pack, look no further than a pair of Bucks or Chukkas. Just as comfortable as sneakers, Bucks and Chukkas straddle the line between casual and formal. They have the design of a dress shoe, yet are casual because of the material they are made from. They can be worn with dark denim, chinos, or even worsted wool trousers.
2. Athletic kicks - If you want to give that sporty feel to your shoes and still be classy, then you must go for lace up sneakers with stripes in suede leather. Their athletic appearance is what attracts the crowd the most. They are a must-have in your shoe rack right now before your college commences.
3. Flaunt the camo look - A pair of high-ankle sneakers in camo print is also quite in vogue and gives a robust and confident style statement when teamed up with a leather biker jacket and denims.
4. Slip-on - These sneakers are the hallmark of easy going sporty and comfortable style. They're simple in both form and function, they're easy to take on and off, and they keep every outfit sharp. A great pair of slip-ons will also transition well from summer into winter-they work as well with jeans as they do with your casual shorts. From perforated white to woven leather, slips on sneakers are super cute and are super modern and fashionable.
5. A colourful basic - Slide on a colorful high-top sneaker and pair it with a basic white tee and blue denims. This is the most popular on-going college look which is simple yet classy. You can catch up on some vibrant colors such as red, blue and wine.
6. Little detailed white sneaker - A great pair of white sneakers is a wardrobe must. You can wear them with anything on just about any day of the week, whether it's with a pair of crisp jeans and a button-down out for a Friday night, they even look great with a suit. From minimalist to retro to high fashion, these stylish and comfortable sneakers work for most of the college occasions.
(With IANS Inputs)