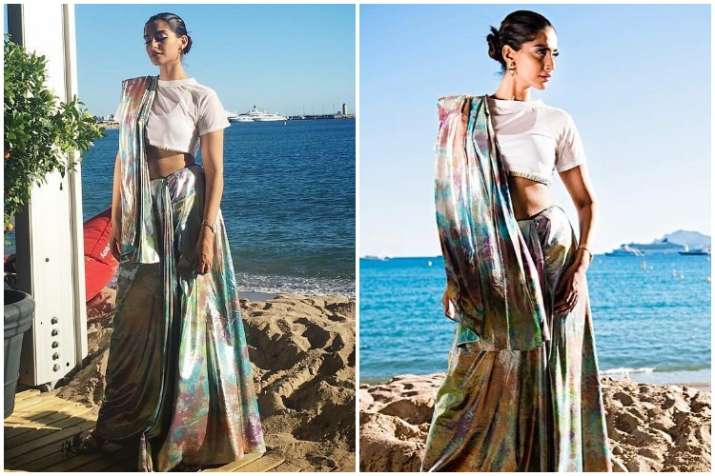 Bollywood actress Sonam Kapoor and her Delhi-based beau Anand Ahuja are hogging most of the headlines. The couple is going to tie the knot in Mumbai on May 8 in a private ceremony. On Tuesday, the Kapoor family released a statement announcing Sonam Kapoor's wedding to Anand Ahuja. Sonam has been dating Anand Ahuja for quite a while now. The actress has kept her relationship under wraps until her beau started posting pictures with her on his Instagram. Anand also appeared on her timeline every once in a while.
It is said that it's their mutual love for fashion that brought Sonam Kapoor and Anand Ahuja together. For the uninitiated, Ahuja owns an apparel brand called Bhane. It turned out that her Delhi-based beau is man behind her goddess-like at last year Cannes Film Festival.
The actress caught attention of the fashion enthusiasts in 2017, when she made a red carpet appearance in a prismatic Shimma saree. She dedicated her look to pop icon Cher. It was Anand Ahuja's idea to make Sonam Kapoor look drop dead gorgeous at the international event.
A source told DNA that Anand Ahuja suggested the Kapoor sisters to try this look for the Cannes look. It added, "It was Sonam's beau Anand Ahuja who put Sonam and Rhea on to the designers — Mriga Kapadiya and Amrit Kumar. Anand knew them as he's in the garment business himself. He recommended them to the Kapoor sisters. Sonam likes to promote local Indian work so she decided to wear the Shimma Saree. Anand was pleased as punch that the Kapoor sisters had liked his choice."
Anand Ahuja also went on sharing the picture from the gala on his Instagram account. He captioned it, "Whattttttt! #Cannes2017 … Team Work Makes The Dream Work @sonamkapoor @rheakapoor @norblacknorwhite #ShimmaSaree #WhatATimeToBeAlive #YouAndYours #MeAndMine #AreWeTalkingTeams #EverydayPhenomenal."
Meanwhile, the wedding preparations have started in full swing at the Kapoor mansion in Mumbai. Last week, Anil Kapoor's house was seen decorated like a bride, which further strengthened the wedding rumours. Later, the Kapoor and Ahuja family confirmed the wedding happening with a joint official statement. It's going to be an intimate affair at Sonam's aunt's plush villa in Bandra. Only close friends and families would be invited to the ceremony though e-invitations.