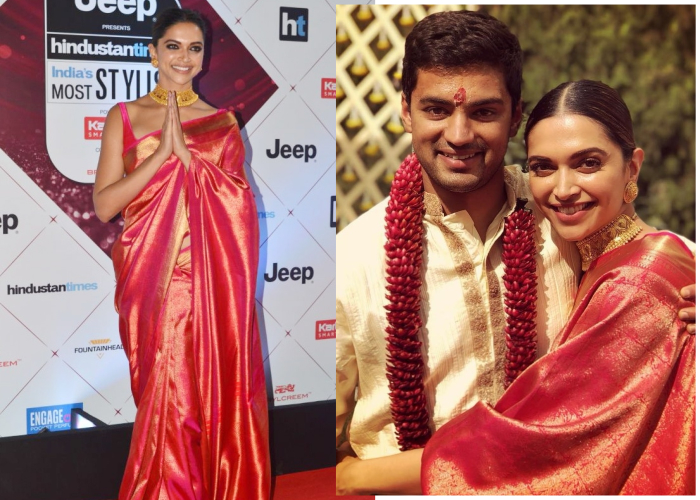 Padmaavat actress Deepika Padukone walked the ramp of HT Most Stylish Awards 2018 on Wednesday. She dazzled among the rest of the celebrities wearing a red and gold silk sari. She was conferred with the title of India's Most Stylish Actor (Female) at the award ceremony along with Shahid Kapoor who won India's Most Stylish Actor (Male). There's no doubt that the actress looked ethereal in her traditional guise. But don't you think you have seen this sari and jewellery before as well?
Deepika Padukone wore the same silk sari which she donned at her friend's wedding back in November last year. Reports were saying that the red sari Deepika wore was gifted to her by none other than veteran actress Rekha. She gifted her a sari post the release of her film Bajirao Mastani..
And surprisingly, not only sari, she also repeated the jewellery at HT Most Stylish Awards 2018. She wore the same golden choker and studs at the award ceremony which she wore at her friend's wedding.
Deepika Padukone repeats her outfits a lot and it is so relatable! Isn't it? Few days ago, she wore an anarkali traditional suit for Padmaavat special screening. She already wore that suit during Chennai Express promotions 5 years ago!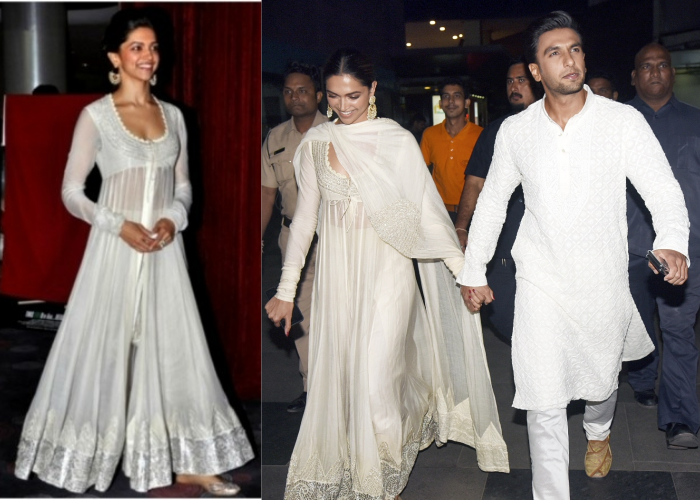 Not that we're complaining, though. The gorgeous actress doesn't rely on outfit and makeup to look beautiful. Her mesmerising dimples and twinkling eyes are enough to sweep anyone off their feet.
Talking about her film Padmaavat, it is finally releasing on 25th Janaury, 2018. Ahead of its official release, a special screening was arranged for the Bollywood celebrities, who were all praises for the film after coming out of the theatres.