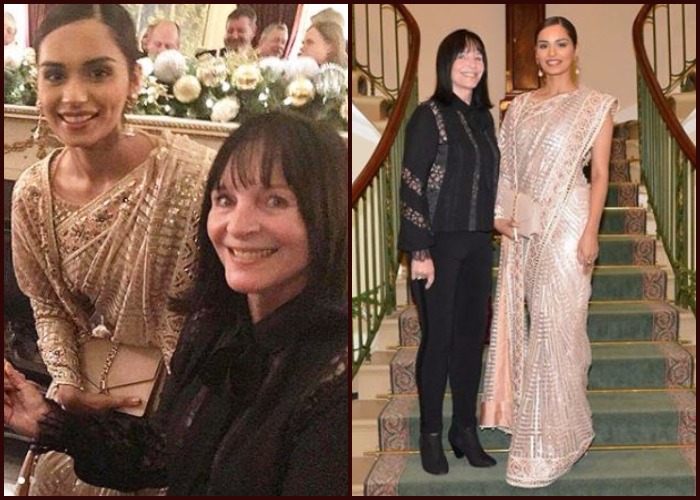 The 22-year-old Miss World 2017 Manushi Chillar never fails to make headlines be it for her fashion sense or her road show in the national capital. The gorgeous former-medicine student always grabs eyeballs for whatever she's doing. And why not? After all she made our country proud by bringing the coveted Miss World crown back to India. She broke the 17-year-long dry spell of India in Miss World pageant. From her quick wit to her eloquence, Manushi Chillar has it all to deserve all the hype and attention.
As a part of her sojourn after being crowned the Miss World 207, Manushi Chillar has been travelling from one place to another. She has been doing back to back conferences to raise awareness regarding various societal issues. What impresses us is everytime she speaks, her words are well-measured and apt. Her fashion sense is just a cherry on the cake.
This time, Manushi Chillar was spotted with Julia Morley, Chairperson of the Miss World Organisation at a special dinner in London. The gathering was organised for Marsha Rae Ratcliff OBE, Past Master of The Worshipful Company of Carmen.
The dimpled beauty chose to wear a traditional Tarun Tahiliani saree in London. Her simplistic yet elegant sense of dressing wooed many on social media. Many appreciated Manushi for her traditional choice of dressing. She wore a silver and peach Tarun Tahiliani saree which was draped in a traditional manner.
The other end of the 'Pallu' was hanging on her opposite shoulder, giving her a classy look. The saree in itself was a sight to behold. It had the right amount of glamour and simplicity in it.
It was only last month when Manushi Chillar was crowned Miss World 2017. In a short span of time, she had made a space for herself in millions of hearts. Her classic sartorial choices have time and again, made her standout from the rest of the crowd.
She keeps her makeup minimal and plays safe on jewellery which is another plus point to her fashion choices. If you need some fashion advices, you can get a lot to learn from Miss World 2017 Manushi Chillar. 
Here's Manushi Chillar's Instagram video from London