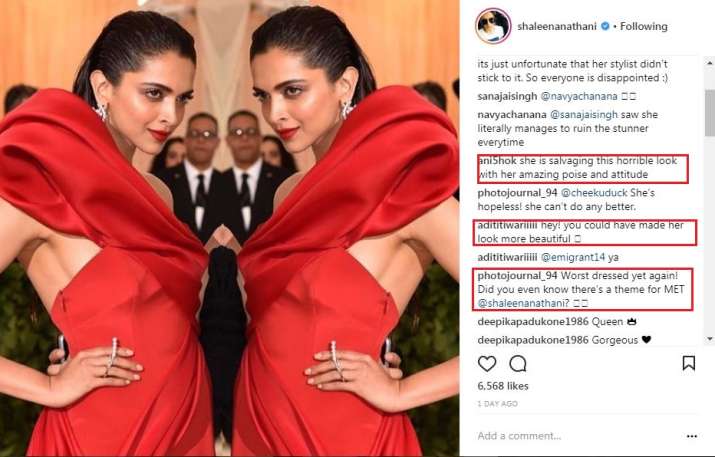 Deepika Padukone is one of the most beautiful actresses in the industry. However, often the actress is trolled and criticised for her fashion and makeup. Recently, Deepika made an appearance at Met Gala 2018 in a Prabal Gurung gown. This year's theme for the Met Gala was 'Heavenly Bodies: Fashion & The Catholic Imagination'. While Priyanka Chopra's look for the Gala was hailed by the fashion police, Deepika Padukone received criticism on social media for 'playing too safe'. Also, she was trolled for her 'Chipku' hair at the event.
When her stylist Shaleena Nathani posted the pictures from the Met Gala 2018, Deepika's ardent fans couldn't stop themselves from blasting her for making their beloved look 'ugly'. Her hair was swept backwards and it looked like she has poured a gallon of oil in her mane. Her look landed being unimpressive. Soon after Shaleena posted pictures of Deepika Padukone, she faced the wrath of the actress' fans and fashion police.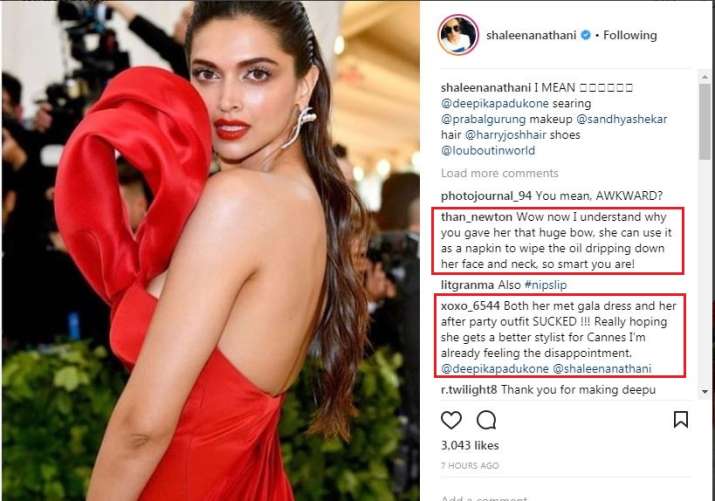 Commenting on the picture, one user wrote, 'Both her met gala dress and her after party outfit SUCKED !!! Really hoping she gets a better stylist for Cannes I'm already feeling the disappointment.'
Fans hope that Deepika Padukone opts for a different stylist for another big ticket event that's coming her way: Cannes 2018.
'Thank you for making deepu ugly,' wrote another user.
Most of the social media users bashed the stylist for not sticking to theme. Saying that, they appreciated Priyanka Chopra's look at the Met Gala 2018, which was far more experimental and bold as compared to Deepika's.
'I'm sorry but u failed here. She has a face n a body that could pull of any look. Y didn't you follow the theme?' another user lambasted the stylist.
It's not the first time that Deepika Padukone's stylist was slammed on social media for her otherworldly choice of fashion. Earlier, she was slammed for making the Padmaavat actress look like a golden gift wrap.
Deepika Padukone wore a Monisha Jaising thigh-high slit golden gown at Lux Golden Rose Awards and got trolled left, right and centre. Many compared her look to a golden gift and even to a Ferrero Rocher and Twix.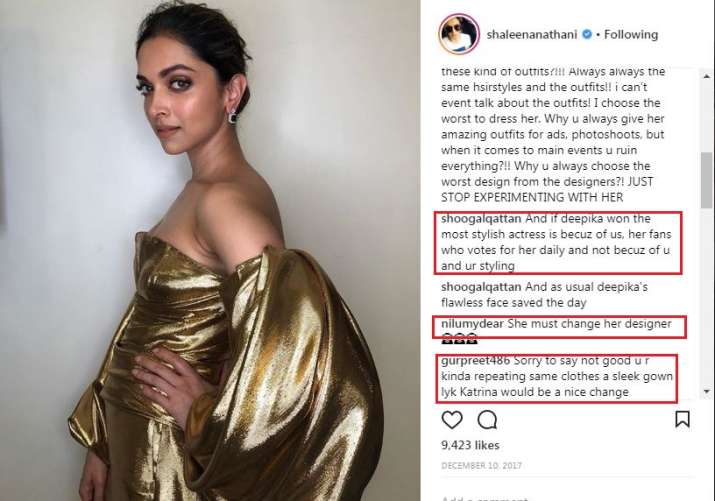 We hate to admit it, but it's true that the stylist has been either going overboard or playing safe when it comes to styling Deepika Padukone. Her Met Gala 2018 fashion choice is another example for it!