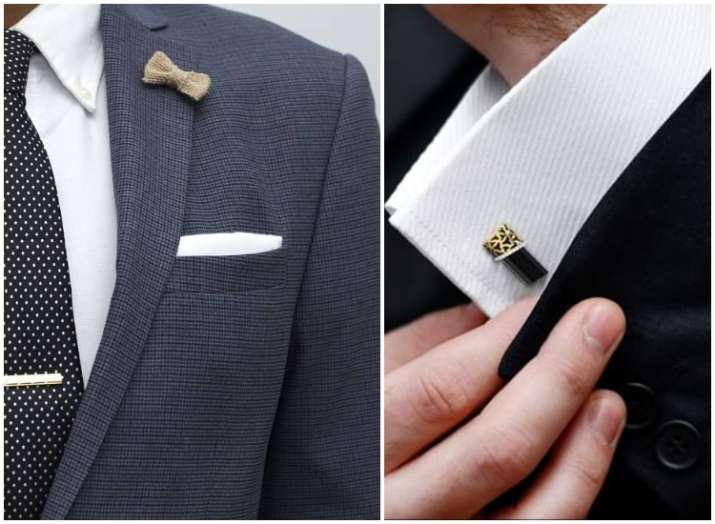 To find the right style guide for men which offers interesting and easy-to-follow fashion tips can be a difficult task at times.
But once you have decided on your attire, your next stumbling block can be accessories. As men have always been very confused about the accessories options for them, here is our list of small offerings that can do wonder to your looks and instantly glam it up.
These accessories can just bring the right whiff of freshness to your boring and dull outfits!
Use collar pins for sharp look
Collar pins hold the two ends of the collar together. It is tucked underneath the tie knot that helps keep the collar in place and lifts the tie knot firmly giving it a sleek and sharp look. There are many varied types of collar accessories like collar pins, collar bar or barbell and collar tab each adding flair to a buttoned-up look.
Wear elegant or bold patches
They are the most trendy. Due to its versatile nature, patches can be pinned in and used differently multiple times. Patches tell a lot about your persona, they can be stylish and elegant to rebellious and bold. Put it on your jeans, jackets, collars, hand sleeves, scarves, bags and what not. 
Experiment with lapel pins
Lapel pins are generally associated with formal gatherings, worn at the lapel of your blazer on left-hand side of your heart. The modern age men have been quite experimental and carry off variously shaped lapel pins to add some artistry to the mundane black tux. 
Brooches be the traditional ornament
Men's brooches, a well-known ornament from the Roman Empire to the present newest trends proved out to be an admirable jewel. Chain brooches can be worn with traditional attire or Indo-western costumes adding sparkle to your look instantly. Choose from floral, stone or any quirky shaped brooches according to your personal flair.
Aztec-design cufflink is your go-to
There are a number of designs and textures available that can bring instant fun to the look. Where cufflinks with Aztec design work best to formal attires, those imprinted in different motifs like skull, bear, bottles etc can be worn to keep it funky and hippie.
Try trendy bracelets
Relaxed, laid back and playful, bracelets are the breed of jewelry that every man can wear without feeling overdone or out of place. Be it casual or dressy occasions, different bracelets can lend distinction allowing you to stand out in the simplest of ways. From beaded wrist wear to steel versions, men's bracelets are cool and trendy.
So, turn a casual attire into a fashion statement with these six trendy party accessories.
(With IANS Inputs)
For latest Lifestyle updates, check out our Facebook page!
Also Read -5 Fashion tips to carry ethno-contemporary gracefully this festive season
Also Read -7 Tips to ace Fashion game for Women above 50
Also Read -Salman Khan never misses an opportunity to flaunt his sartorial style