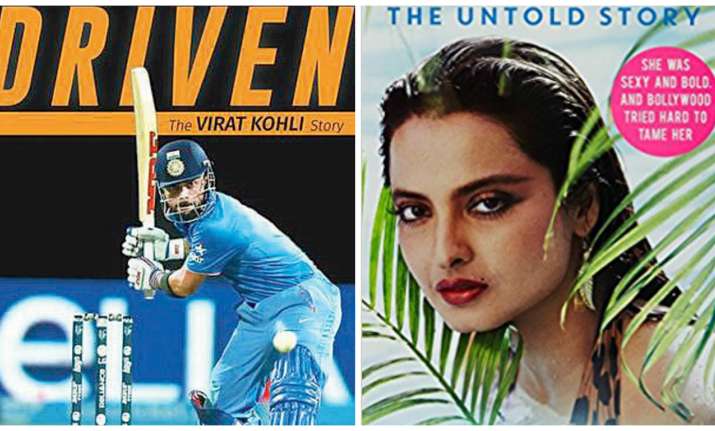 Biographies of Indian cricketer Virat Kohli and actress Rekha along with several other books have been shortlisted for Crossword Award. Leading writer Devdutt Pattanaik, yogi and mystic Sadhguru and Karan Johar are also among nominated writers for 15th Raymond Crossword Award 2017.
The award, India's first and one of the most prestigious, recognises and rewards the best of Indian writing and Indian authors. Sadhguru has been nominated in the nonfiction category for "Inner Engineering: A Yogi's Guide To Joy". His book will compete with "Devlok" by Devdutt Pattanaik in the same category.
"Nawabs, Nudes, Noodles: India Through 50 Years of Advertising" by Ambi Parmeshwaran and "The Rise and Fall of Nations: Forces of Change in the Post-Crisis World" by Ruchir Sharma will compete in the Business and Management category.Indian authors with great following such as Ashwin Sanghi, Ravinder Singh, Durjoy Dutta, Sudha Murthy, Radhakrishnan Pillai and Chetan Bhagat also feature prominently in the shortlist, the organisers said in a statement. 
This year, Virat Kohli's biography, "Driven" written by Vijay Lokapally is among the contenders. In the biography category, it will compete with "Khullam Khulla: Rishi Kapoor Uncensored" co-authored with Meena Iyer, "An Unsuitable Boy" by Karan Johar, "Challenging Destiny," Chhatrapati Shivaji's biography by Medha Bhaskaran and "Rekha-The Untold Story" by Yasser Usman.
A Lifetime Achievement Award was introduced in 2016 and was conferred upon popular and beloved author Ruskin Bond by the legendary Gulzar. 
(With IANS inputs)