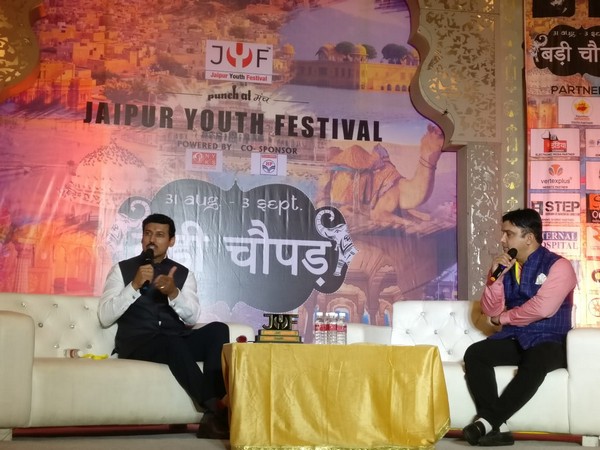 Union Sports Minister Colonel Rajyavardhan Singh Rathore while speaking at the Jaipur Youth Festival stressed upon the need for youth to be ready to face challenges and urged them to give their 100 per cent.
"Whatever you wish for, give it your hundred per cent and you will definitely succeed, but remember there is no ideal situation, so be ready to face all challenges," he said.
Talking about the success of the Indian contingent at the Asian Games, Rathore said, "The success achieved in Asian Games is significant since maximum medals have come when playing out of India. The credit goes to the players, their families and the entire nation. Full support for sports was given by Prime Minister Narendra Modi."
Rathore's address was followed by an interaction session, where the audience posed a number of questions before him. Apart from Rathore's address, the second day of the Jaipur Youth Festival witnessed eight panel discussions, in which experts from different walks of life shared their views and experiences and interacted with the young participants of the festival.
In a session on the flavour of Indian cinema, actor Rahul Singh and director Atul Tiwari spoke of the evolution of Indian cinema. Explaining the concept of new cinema, Tiwari said that while earlier films had themes that followed black and white positions of good and bad, the films of today are steeped in reality and factual in context.
On the other hand, Singh opined that theme-based movies used to be produced earlier, but the audience for the same was limited. He also acknowledged that in the present day, there is a change in audience perception and lesser hesitation in facing the reality.
Another session titled 'Gangs of Wasseypur: Interwoven in Politics' was addressed by MLA Brajesh Singh, author Sandeep Singh, and journalist Arvind Mohan.
Apart from the sessions and panel discussion, activities like poetry, extempore, storytelling and short write-ups were also conducted.
The four-day festival, slated to end today, that is, on September 3, is meant to get youth and students from across the country together to share thoughts and experiences.
This edition of the festival is based on the theme 'We the People of India: In a Trap', and will cover all aspects related to the youth of the country.
(With ANI Inputs)
For latest Lifestyle updates, check out our Facebook page!
Also Read -Neeraj Pandey's book Ghalib Danger launched in Hindi translation
Also Read -5 Best English Books to Enhance Your Reading, Writing, and Speaking
Also Read -After 'The House That Spoke', Zuni Chopra released second book titled 'The Island of the Day Before'