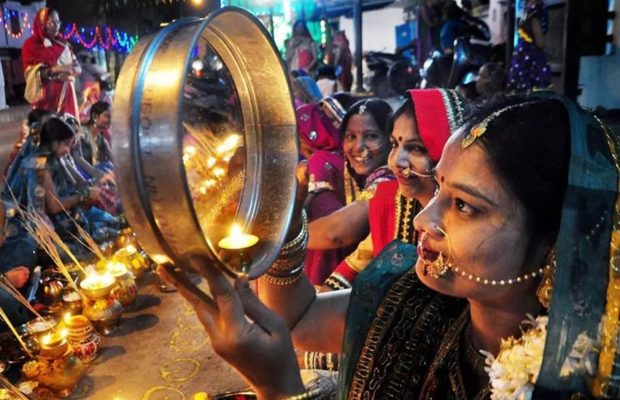 Karva Chauth has kickstarted in style with all pretty ladies getting decked for the auspicious night. This celebration for the longevity of husbands and prosperous married life comes on fourth day of Krishna Paksha in the month of Kartik. Women observe nirjala fast throughout the day and break it after making offerings to the moon. They have pre-dawn meal called sargi which includes some home-made snacks items, sweets, fruits and recipes made of milk. In the evening, ladies from neighbourhood come together to worship Goddess Gaura. With bridal outfits and make up, women do 'solah sringar' on this day.
They eagerly wait for the moon so that they can do puja and break the fast. It has been observed the we Indian generally rely on tea or coffee to boost energy and same happens after nirjala fast on Karva Chauth. Also, if it festival then we prepare variety of cuisines which are fried and full of spices. However, we should be cautious while breaking the day-long fast. Pay attention to following points:
NO to caffeinated drinks: Women generally drink tea or coffee to gain back that lost energy but it is not advisable. Drinking tea or coffee on empty stomach can cause acidity and also lead to uneasiness.
Avoid fried foods: We know its festival and you wants some yummy Indian cuisines but first have something lighter and healthier. After long hours of fasting when stomach is loaded with heavy foods, it can cause upset stomach, loose motions or bloating.
Drink water/juice: To avoid dehydration, you should drink 2-3 glasses of water. You can also have lemonade if plain water is too boring for you.
Eat healthy and light: First have some fruits and nuts instead of tea and coffee to derive energy. Having yoghurt is a good option as it contains all vital nutrients. You can also have buttermilk, khichdi, dal-chawal or idli and upma to break your fast.
PUJA MUHURAT AND TIMING : The muhurat of puja is between 17:55 to 19: 09 according to drikpanchang. You can worship the goddess within 1 hour and 14 mins. At 4:58 pm, Tritiya Tithi will end and at this time of the day, Chaturthi Tithi will begin. Chaturthi will end at 2:17 pm on 9th October.
Here are today's moon rise timings in Delhi and different cities, states of India
Delhi - 8:30 Pm
West Bengal - 8:35 Pm
Ahmedabad - 8:45 Pm
Gujarat - 8:35 Pm
Maharashtra - 8:30 Pm
Pune - 8:30 Pm
Patna - 8:30 Pm
Ghaziabad - 8:30 Pm
Mumbai - 8:35 Pm
Bangalore - 8:30 Pm
Ahmedabad, Gujarat - 8:45 Pm
Lucknow - 8:35 Pm
Dehradun - 8:32 Pm         
Chandigarh - 8:42 Pm
Madhya pradesh - 8:45 Pm
Bihar - 8:34 Pm
Haryana - 8:30 Pm
Himachal Pradesh - 8:30 Pm
Jharkhand - 8:35 Pm