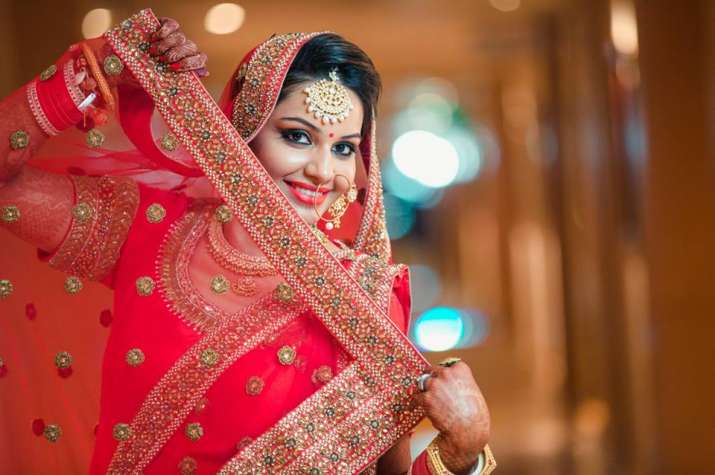 Today is the big day for all Hindu married women of North India. It's Karwa Chauth and its festivity can be felt in air. Celebrated on the fourth day of Krishna Paksha in the month of Kartik, the preparations of this one-day festival begin month in advance. Huband and wife pray for their togetherness and seek blessings for their prosperous married lives. Women observe fasts and break it after seeing the moon. They worship Goddess Gauri in evening and pray for the long lives of their husbands.
Preparations for the festival begin month in advance. Married women dressed up in ethnic outfits and accessories look just like brides on the auspicious day. They apply mehndi on hands. It is believed that darker the colour of henna on your hands, more your are loved by in-laws and husband. Ladies visit parlours for the bridal makeup and do 'solah sringar'. Women wear all 16 accessories and make up related to marriage on this day. Let's know what all are included in solah sringar:
Sindoor: Sindoor or vermillion is a sign of married life in Hindus. Women wear it on their forehead for the long lives of their husbands.
Mangalsutra: Mangalsutra is the second most important sign of marriage for Hindu women. Some always wear it.
Mang Teeka: Mang teeka doubles the beauty of a woman. It is wore on forehead with a hook at its end. It comes in different shapes and sizes.
Kajal: Kajal makes the eye dramatic and beautiful. Kohl is believed to ward off evil forces.
Bindi: The importance of bindi in Indian woman's life is unbeatable. Even girls wear it regularly or on special occasions.
Bangles: Bangles escalate beauty of a suhaagan (married women). It comes in various colours and designs. On Karva Chauth, women especially wear red coloured bangles.
Rings: Rings should be wore on Karva Chauth by married women.
Karnphool: Karnphool are different from normal earings. It adorns the ears of a married woman.
Bajuband: Bajuband or armlet is wore on the upper arm. It looks stunning.
Kamarband: Kamarband is a band tied on the waist line to enhance the beauty of woman.
Mehndi: Applying mehndi or henna on hands on Karva Chauth is mandatory for women. 
Toe-ring: Toe-ring is believed to regulate blood pressure and is compulsary for married Hindu women.
Gajra: Gajra made of jasmine or other scented flowers is wore on hair by women.
Saree: Women wear saree on auspicious ceremonies. On Karva Chauth, ladies especially wear red coloured sarees.
​