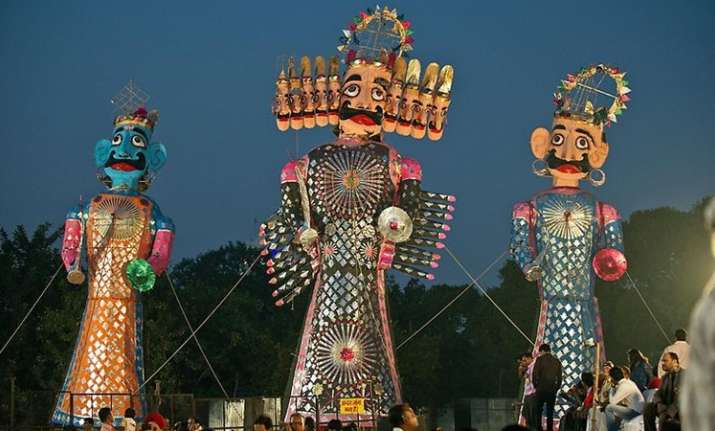 Dussehra or Vijayadashami is the festival which marks the triumph of good over evil. After the nine day festivities of Navratri, Dusshera falls on the tenth day of Ashwin month according to Hindu calendar, says rudraksha-ratna.com. This year the festival will be celebrated on September 30, 2017.  It is celebrated in different ways across the country.
The popular mythological belief associated with Dussehra is victory of Lord Rama over demon king Ravana. Lord Rama who is regarded as the seventh incarnation of Lord Vishnu killed Ravana to rescue his wife Sita. The festival also marks the triumph of Goddess Durga over buffalo demon Mahishasura. Effigies of Ravana is burnt and plays from the Ramayana is enacted in different parts of the country. Delhi's Ramlila Ground and Luv Kush Ramlila Committe are popular spots for Vijayadashami celebration and the play. In West Bengal, Durga idols are immersed with great pomp and show. Married women play with sindoor or vermillion in the pandals, the ritual which is known as Sindoor Khela.
Vijayadashami or Dussehra Date, Muhurat and Timing
The Dashami Tithi begins from 11:49 pm on September 29, 2017 to 1:35 am on October 1, 2017. Shami Puja, Aparajita Puja and Seema Avalanghan are rituals to be performed on this day. All these rituals should be completed during Aparahna time. The Vijay muhurat is between 2:08 pm to 2.55 pm on September 29, 2017 while Aparahna Puja timing is between 1:21 pm to 3.42 pm on the same day.
Vijayadashami or Dussehra Puja Vidhi
As per rudraksha-ratna.com, puja can be performed by worshipping photos of Dussehra with water, cow dung, grains(jowar), flowers, fruits and sweets. Dhoop can be offered to the image followed by bhog of kheer and puri. Brahmins should be given dakshina and prasad must be distributed among family, friends and poor.