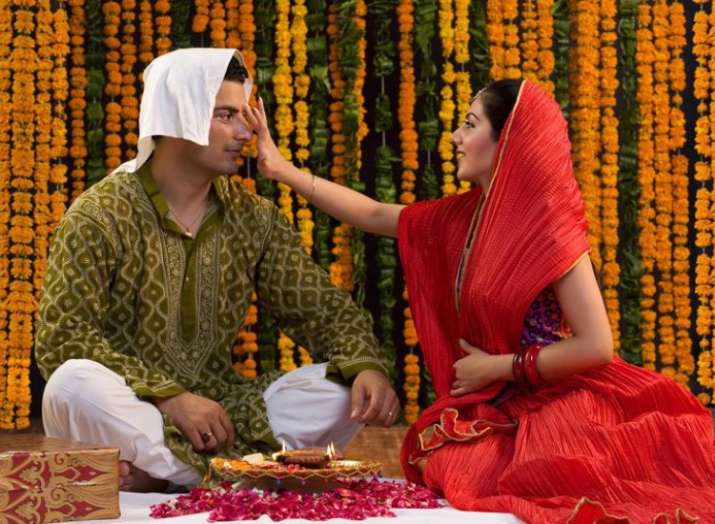 Diwali 2018: The fifth and last day of the five-day celebrations of Diwali, Hindus celebrate the auspicious festival of Bhaidooj or Bhaiya dooj. This year, the day falls on November 9th and honours the pure bond of brother and sister. On this auspicious day, sisters pray for the wellbeing of their brothers by putting tika on their foreheads. In return, the brothers give gifts to their sisters and, also promise to protect them from all kinds of evil. Bhaidooj concludes the celebrations of Diwali on a happy note and bears some resemblance to Raksha Bandhan, another auspicious day that strengthens the relationship between sisters and brothers.
Bhai Dooj 2018 History
While the festival all fun and celebration, there is a story behind the importance of this festival. Yamraj used to love his sister Yamuna more than his life. But he wasn't able to see his sister due to excess workload. One day, he plans to visit his sister after a long time. Yamuna was elated to see her brother after such a long time. She made delicious dishes for her dear brother. Seeing Yamuna's hospitality, he presents her with a number of gifts. He promises his sister to come back again. He also asks Yamuna to ask for any boon she wants. She takes an oath from Yamraj that every year on this day he will come to meet her and accept her hospitality. Thus, on this day every year, Bhai Dooj is celebrated.
Bhai Dooj 2018 Significance
According to the Hindu Calendar, Bhaidooj is observed on the second lunar day of the Shukla Paksha (bright fortnight) of the Kartika month of Vikram Samvat Hindu calendar. There is also a literal meaning attached to the auspicious day. It is made up of two words namely- "Bhai" meaning brother and "Dooj" meaning the second day after the new moon which is a day of its celebration. The day pays tribute to a strong brother-sister bond and all the sisters invite their brothers to visit them and offer their hospitality to them.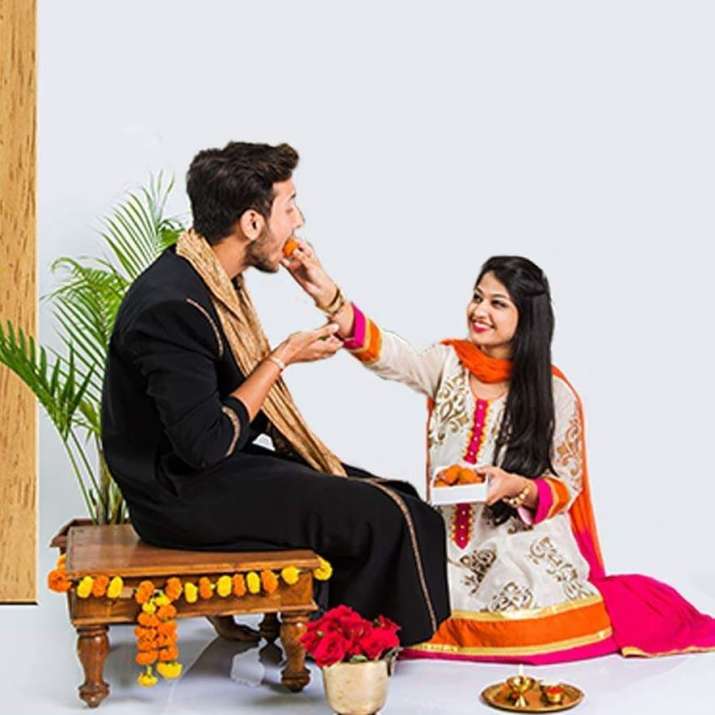 Bhai Dooj Gift Ideas
In order to acknowledge the love sisters shower on their brothers, they buy gifts for them. From clothing to chocolates, the choices are vast and one may have difficulty in selecting the best gift suited for their sister. Suitable ideas for sisters can be beauty products, jewellery, mobile phone/mobile phone accessories, salon at home and ofcourse chocolates.
On the other hand, sisters can also show their love towards their brothers by gifting them electronic appliances and clothing that can make their day.
Bhai Dooj Subh Muhurat
Bhai Dooj Date = 9th November 2018
Bhai Dooj Tika Muhurat = 13:16 to 15:28
Bhai Dooj Pooja Mantra
गंगा पूजा यमुना को, यमी पूजे यमराज को. सुभद्रा पूजे कृष्ण को गंगा यमुना नीर बहे मेरे भाई आप बढ़ें फूले फलें.
Bhai Dooj 2018 WhatsApp Messages, Facebook Status
My brother is my best friend. You stand by me when I am alone you make feel happy when I am low. Thanks for being for me always Dear Brother. Happy Bhaidooj.
You can share your pain;
You can share your fears;
And you can share your happiness
Thanks for being a very understanding brother!
Happy Bhaiya Dooj!
Bhaiyaa, you are someone
I admire and look up to,
with lots and lots of love wishing you
Happy Bhai Dooj 
Wish you the days that bring you happiness infinite and a life that's prosperous and bright...
Happy Bhai Dooj 
Praying for your long life and good health
on this Bhai Dooj and always
Have a Chocolaty Bhai Dooj 
You were always my best friend,
Looking out for me, making sure
The path I travelled on was smooth.
Even if I searched the world over,
There cannot be a better brother than you.
Happy Bhai Dooj! 
Credits: Dgreetings
Bhai Dooj 2018 Images, Wallpapers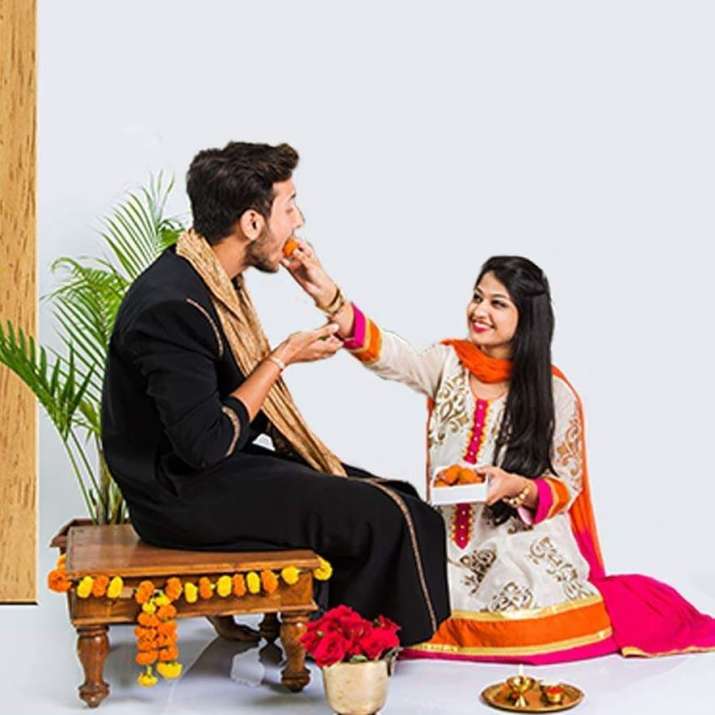 ​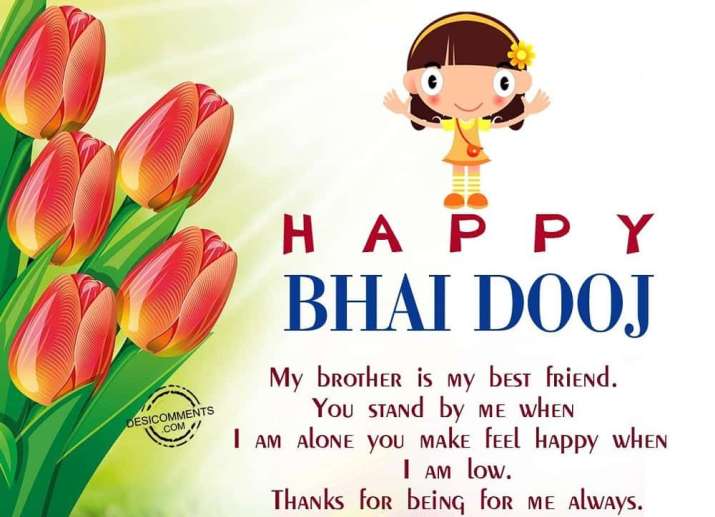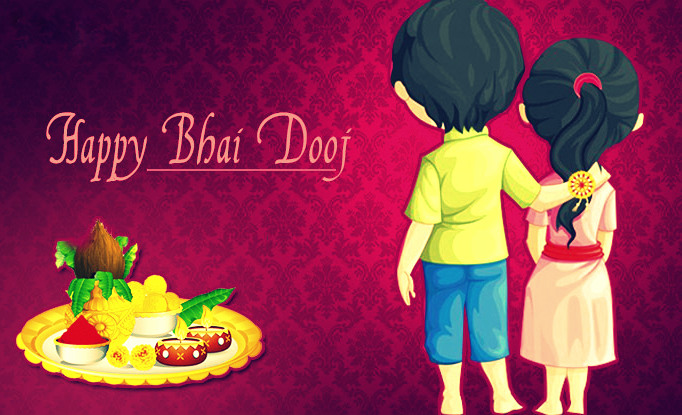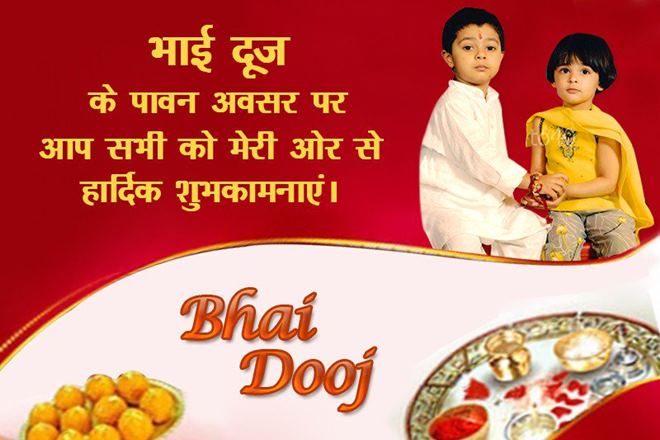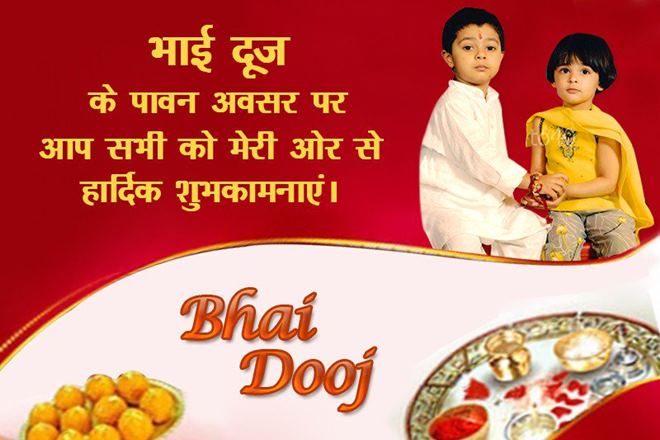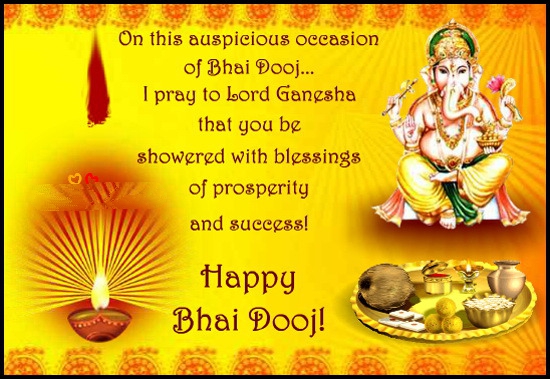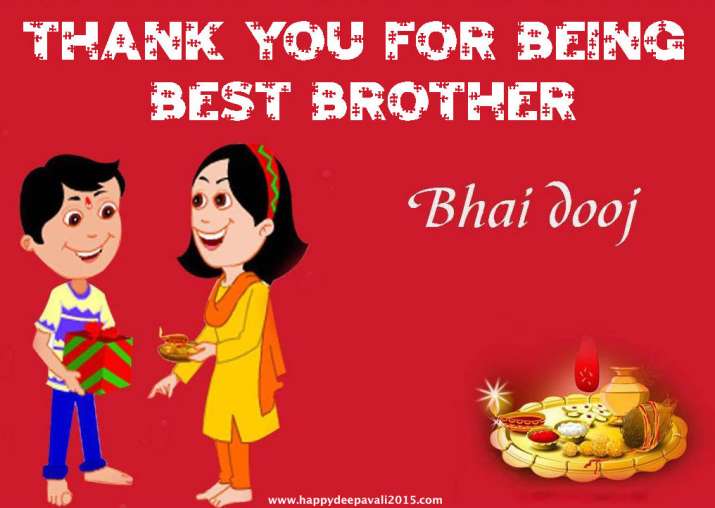 Image Credits: 123greetings