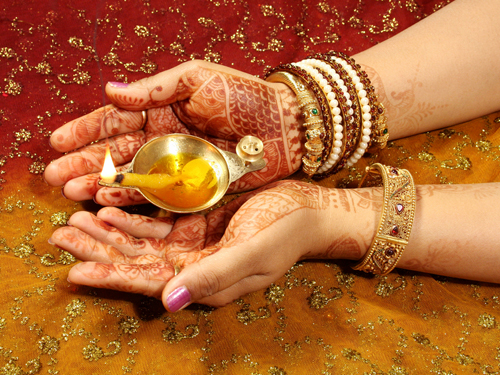 Right from Sharad Navratri, the festive season kickstarts in India with full fervour and zeal. Most of the Hindu festivals fall in the month of Ashvina-Kartika, that is October. After Kavra Chauth, people wait for Diwali with loads of excitement and joy. But before that, on the Ashtami of Kartik month, Ahoi Ashtami is celebrated. This festival is famous in Northern India and this year it is falling on 12th October 2017, Thursday. On this day married women fast and worship Ahoi Mata for the longevity of their child. Some women also observe waterless fast on the day. This festival is celebrated especially in Rajasthan with full dedication. On this day, women draw the picture of Goddess Ahoi on their walls. Some even observe fast to fulfil their desire for a child. Goddess Ahoi blesses the women with an offspring and ensures their longevity. 
Ahoi Ashtami 2017 Puja Vidhi 
On this day women wake up early in the morning and have a bath. They resolve to fast for the long and happy life of their child. Goddess Parvati averts the mishaps in the life, thus she is worshipped in the Puja rituals. Before starting the Puja rituals, the picture of Goddess Ahoi is made on the wall using mud. Nowadays, readymade stick-on pictures are also available in the market. The seven kids of porcupine are also painted on the wall. A bowl full of rice, radish, water caltrop (Singhada) are kept before the Goddess. The lamp is lighted and Goddess Ahoi is remembered with reverence. The story behind Ahoi Ashtami is read aloud to all the members of the family. Few grains of rice are taken in hand and after completion of Puja rituals, they are tied in a cloth. 
In the morning, water is kept in the vessel. Keep in mind, that the same Karva is used which was used in Karva Chauth. Using this Karva (Pot) water is sprinkled through entire house on Diwali. Offer 14 puri and 8 pudi to the Goddess. A separate food platter is kept for the Goddess which contains 14 puris or 'mathri'. You can also keep cashewnuts as well. The water in the vessel is offered to the moon god in the evening. In another set of rituals, silver statue of Ahoi is also used. Then it is worshipped with rice, milk, vemillion, etc. After completing the Puja, seek blessings from your elders in the house and then break the fast. 
Ahoi Ashtami 2017 Puja Muhurat
Evening 5:10 pm to 6:24 pm
Puja duration: 1 hour 14 minutes
Auspicious time for star gazing: 5:28 pm
Ahoi Ashtami 2017 Aarti
जय अहोई माता, मैया जय अहोई माता।
तुमको निसदिन ध्यावत हर विष्णु विधाता।।जय।।
ब्राहमणी, रुद्राणी, कमला तू ही है जगमाता।
सूर्य-चंद्रमा ध्यावत नारद ऋषि गाता।। जय।।
माता रूप निरंजन सुख-सम्पत्ति दाता।।
जो कोई तुमको ध्यावत नित मंगल पाता।। जय।।
तू ही पाताल बसंती, तू ही है शुभदाता।
कर्म-प्रभाव प्रकाशक जगनिधि से त्राता।। जय।।
जिस घर थारो वासा वाहि में गुण आता।।
कर न सके सोई कर ले मन नहीं धड़काता।। जय।।
तुम बिन सुख न होवे न कोई पुत्र पाता।
खान-पान का वैभव तुम बिन नहीं आता।। जय।।
शुभ गुण सुंदर युक्ता क्षीर निधि जाता।
रतन चतुर्दश तोकू कोई नहीं पाता।। जय।।
श्री अहोई माँ की आरती जो कोई गाता।
उर उमंग अति उपजे पाप उतर जाता।। जय।।