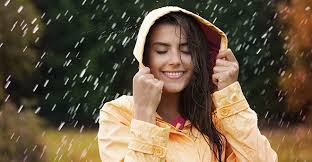 Hair is considered beauty symbol but monsoon brings a lot of problem for tresses because of its excessive humidity and can result in frizzy hair, dandruff and hair fall.
So, make sure that you are following these do's and don'ts to have hassle free hair.
1. Oiling the scalp, using castor oil, olive oil naturally boosts the moisture in your hair which revitalizes dry strands and making them soft and shiny.
2. In case, you want to enjoy the rain showers then use a mild yet deep cleansing shampoo to remove any residue on your scalp left behind by rain water.
3. It is easy to get frizzy, undernourished hair during monsoon and hence using a good shampoo goes a long way in nourishing your tresses and preventing fungal or bacterial infections.
4. Try to eat protein rich diet during monsoon season as it will help to regenerate your hair growth and help in reducing the damage.
5. There are conditioners as well that if you use after shampoo twice a week can help. Use a correct comb, for instance, wide tooth comb is an ideal choice to de-tangle your hair. It will reduce the chances of hair fall while combing.
6. You can also buy a good waterproof hoodie or jacket to protect your hair.
7. Shampoo the hair more frequently during the monsoons season, especially, if your hair is oily. Use a mild herbal shampoo. Rinse your hair well with water to get rid of all soapy residues and the loosened flakes.
8. In case of sticky dandruff, where the flakes adhere to the scalp, hot oil therapy is very useful.
Tip: Heat sesame seed oil or olive oil. Apply the oil on the scalp with cotton wool, rubbing gently to dislodge the flakes. Then dip a towel in hot water, squeeze out the water and wrap the hot towel around the head, like a turban. Keep it on for 5 minutes. Repeat the hot towel wrap 3 or 4 times. Leave the oil for overnight. Next morning, apply the juice of one lemon on the scalp and wash your hair after 20 minutes.
9. Avoid rich conditioners, unless you have very dry hair. Try herbal hair rinse, using conditioners from your kitchen shelf. Tea and lemon rinses may be good during the monsoons. Boil used tea leaves again, in enough water. Cool the liquid and use as a rinse after your shampoo. Lemon juice can be added to a mug of water and used as a last rinse. A lemon rinse helps to reduce oiliness and also maintains normal balances.
10. Marigold flowers can be used to prepare a hair rinse. It is particularly useful during the hot and humid season. Add a handful of fresh or dried marigold flowers to three cups of hot water. Allow it to stand for an hour. Strain and cool the water and use as a final rinse. It benefits oily hair with dandruff.
Tip: Some people are plagued by bad odour from the scalp due to sweat and oily secretions. For this, add the juice of a lemon and half a cup of rose water to a mug of water and use as a last rinse.
(With IANS Inputs)
Also read -5 basic haircare habits for healthy-looking, shiny hair
Also read -6 monsoon beauty tips, don't let waterdrops washout your makeup
Also read -Tame your frizzy hair like a pro, 7 haircare tips you should follow
Also read -Mithila Palkar's tips on managing curly hair this monsoon, hair serum can do wonders