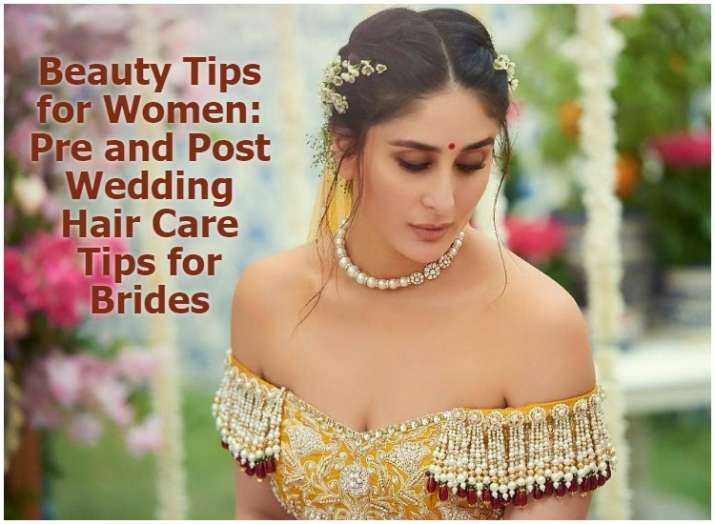 Hair care is essential for women, be it any season. In summer, hair becomes extra oily and sticky whereas, in the winter season, hair scalp remains dry and itchy. Another reason for why it is important to have a 'Good Hair Day' for ladies is that it boosts their confidence.
Women of all ages need their hair to look neat and tidy all the time. This is why, for women, the preparations for perfecting the bridal look starts way in advance -especially because of their hair care routine.
Here's a tip -Always pay attention to your hair care regime before your big day celebration and afterwards as well.
Pre-wedding hair care routine:
1. Best is to start a regime at the onset itself from the very day you say "Yes".
2. A deep conditioning treatment, recommended by your hair expert, should be an obligatory pre-wedding must-do to prep your hair. Also remember to stay hydrated and drink lots and lots of water.
3. Most importantly, make sure you arm yourself with the right products to protect and prep your hair for your big day. The right product regime -a shampoo and conditioner combination with repairing properties will work to improve the texture and condition of your hair over time.
Post-wedding hair care routine:
1. Regular moisture-infusing conditioning treatments and anti-breakage treatments are a must follow-up after all the wedding day shenanigans.
2. The foundation of haircare for a bride-to-be is to shampoo, conditioner and apply hair serum or hair potion on her hair, way in advance. This three-step approach is the most important and goes a long way in ensuring healthy, frizz-free and lustrous hair on the D-Day.
3. Another very important haircare hack is regular deep conditioning treatments and hair spas at your nearest salon. This is not only a luxury but a necessity designed to strengthen hair follicles, stimulate blood circulation, nourish the roots and revitalise the scalp.
4. The third most important step is to avoid harsh chemicals and products that can damage your hair before your wedding. Read the label on haircare products before you buy them. Couple these tips with healthy sleeping habits, a fitness regime and nutritious eating.
5. The morning-after-hair tends to feel frizzy, dull and dry due to the exposure to hair styling products and the flashlights. Make sure you wash your hair properly with a mild cleansing agent to remove all the hair product and styling mousse that was used the previous evening.
6. Once you complete the routine hair care and conditioning, detangle by combing your hair carefully to remove all knots. Divide your hair into sections and use a wide-toothed comb to avoid breakage.
7. Use products that contain argan oil, and moisturising agents that can bring back the lost lustre. Hair potions come in handy for a quick fix when you step out for the post-wedding functions.
While you desire long, smooth and flowing hair, you need to take the above-mentioned hair care tips into account. These tips will not only help you to make your hair look good on your wedding day but will also keep your hair healthy for a lifetime. Along with useful and effective hair care tips, we are also giving you a few common reasons for hair damage.
Following are a few possible causes of hair damage for brides-to-be:
1. The thing about damage is that it is a gradual process. You may not see it at once, but over a period of time the quality of the hair will deteriorate. Damaged hair not only lacks moisture and lustre but elasticity as well and this makes it more prone to breakage, split ends and ultimately hair fall.
2. A lot of brides tend to be anxious with a lead up unto their big day. Pre-wedding jitters only add to their list of woes. Very often, anxiety leads to hair fall and a stressed scalp. Wedding planning can get hectic; but regular hair care is necessary for beautiful looking healthy hair.
3. Innumerable rounds of trousseau shopping mean continuously exposing your hair to dust and pollution. Similarly, long hours in the sun, heat and humidity as well as other environmental factors that you expose hair to on a daily basis play a considerable role in damaging your hair.
4. To top it up, the consistent pressure to be looking your best can push you to frequently succumb to the use of heated tools such as hair dryers, hot rollers, flat irons or curling tongs without using any styling product before or even more, opt for a chemical treatment for your hair. Blow drying your hair or even, combing the hair without proper conditioning will roughen the cuticle, which is the outer protective layer of the hair.
(IANS Inputs)
For the latest Lifestyle updates, check out our Facebook page!