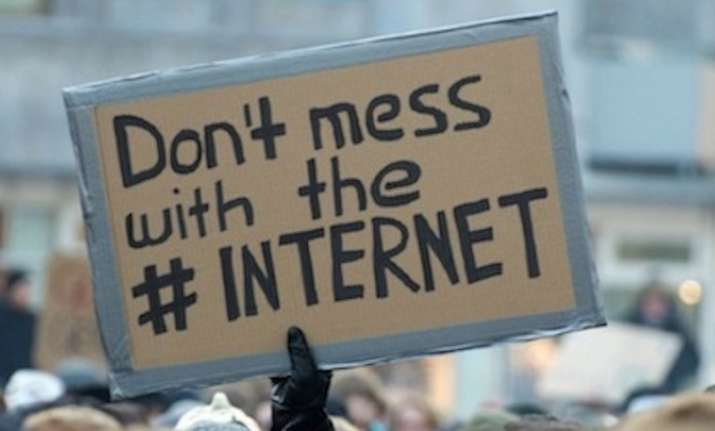 The idea of an independent internet that provides fair and equal access to anyone has just been dealt its most severe blow. In a significant move, the US Federal Communications Commission or FCC voted on Thursday to repeal landmark 2015 rules aimed at ensuring a free and open internet.
Passed in 2015 under the Obama administration, net neutrality rules prevented internet service providers from slowing down, blocking or speeding up connections to certain websites that would pay these carriers.
The rules echoed the principle that every website should enjoy equal access and speed and no deep-pocketed company could stifle the growth of its upstart competitor.
While the decision does not have a direct bearing on the way Indians access the internet, the reverberations could be felt here too.
Experts argue that the internet is not constricted to national boundaries like the financial markets and that a decision in a major country like the US could have ripple effects on other markets too. India is unlikely to be remain untouched either.
The debate over net neutrality is not new in India and has been on since the past four years or so.
Since 2014, mobile operators like Airtel and Vodafone have floated the idea that companies offering free messaging apps like Skype, Line and Whatsapp should share part of their revenue with the carriers or the government.
Schemes like 'Airtel Zero' and more importantly, Facebook's 2015 launch of Internet.org in India with Reliance Communications, which claimed to provide 'free access' to 38 websites through an app, fuelled the debate further.
However, all such measures have so far been blocked by the telecom regulator TRAI.
As things currently stand, TRAI just last month released its recommendations on net neutrality and said the internet is an 'open platform'.
The regulator said internet service providers should not engage in any discriminatory treatment of content, which basically translates to the Trai seeking to bar any practice where selected content is blocked, degraded, slowed down or granted preferential speeds.
Licensees or service providers should be prohibited from entering into any arrangement that has the effect of discriminatory treatment of content, the regulator said in its recommendations.
Despite the TRAI's recommendations, the fear in India is that the scrapping of net neutrality in US sets a bad precedent for other countries.
One can trace the basis of these fears in one of the most commonly cited explanations offered by net neutrality advocates: If net neutrality would have been abandoned about 10 years ago, a website like MySpace or Orkut could have paid American service providers to ensure their websites worked much faster than Facebook, thus stalling its growth and eventual expansion to other markets like India.
Reuters observes that the same risk applies to smaller websites like Vimeo (as against YouTube) or Reddit (compared to Facebook).
If these or any other similar websites are choked in the US, they are likely to wilt for users in India too. And while the regulator or authorities do not appear to be leaning anywhere close to ending the idea of an equal internet, the development in US does create a regulatory precedence that may ruing things elsewhere around the globe.