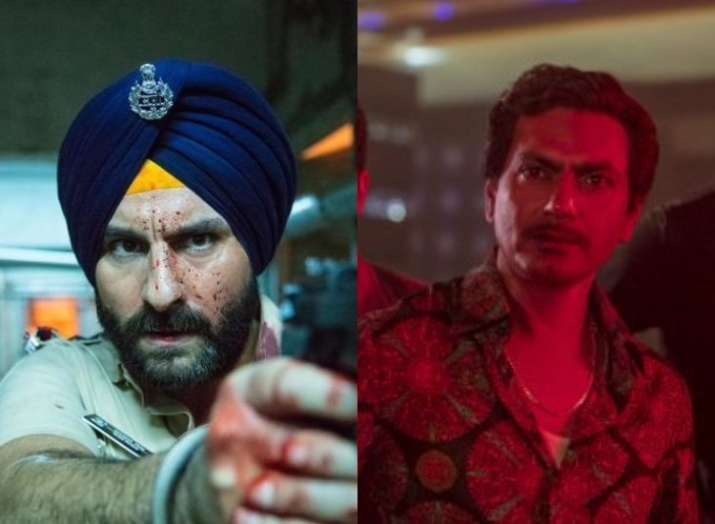 The trailer of much-awaited Netflix series, Sacred Games, starring Saif Ali Khan and Nawazuddin Siddiqui has popped on the internet and there are just two words that perfectly describe it- mysterious and dangerous.
The trailer seems to be the perfect recipe for a thrilling series. While Nawazzudin Siddiqui takes away our breath with the mysteriousness of his character, Saif Ali Khan impresses with his humble cop role. Sacred Games is India's first Netflix original series and it does justice o the very theme of it.
The trailer depicts that Nawazuddin is all set to burn up the city that never sleeps, Mumbai, but before he gets into action he calls up cop Sartaj Singh aka Saif Ali Khan claiming, ."Life badalne wala hai tumhara (your life is going to change)." Why did Ganesh Gaitonde (Nawaz) call only Sartaj Singh to warm about the attack? What is the relation between the two? These are some of the questions that are left hanging after we see the trailer. The 1 min 46-second clip definitely peaks interest and takes you in a dangerous world of Mumbai where anything can happen anytime.
Other than the two male actors, Radhika Apte impresses in the trailer with her sharp acting and in the moment expressions. Co-directed by Vikramaditya Motwane and Anurag Kashyap, the trailer is based on Vikram Chandra's popular literary thriller, Sacred Games.
(Also read: Saif Ali Khan, Radhika Apte, Nawazuddin Siddiqui will intrigue you in Sacred Games)
Talk about the music and screenplay, they perfectly grab the tension of the story and takes you along with it till the very last second of the trailer. About the series, it is said that both Anu rag Kashyap and Vikramaditya Motwane have shot their portions separately. While most of Nawazuddin Siddiqui's scenes are shot by Anurag, Saif Ali Khan has been majorly directed by Vikramaditya.
The series will release on Netflix on July 6