Follow us on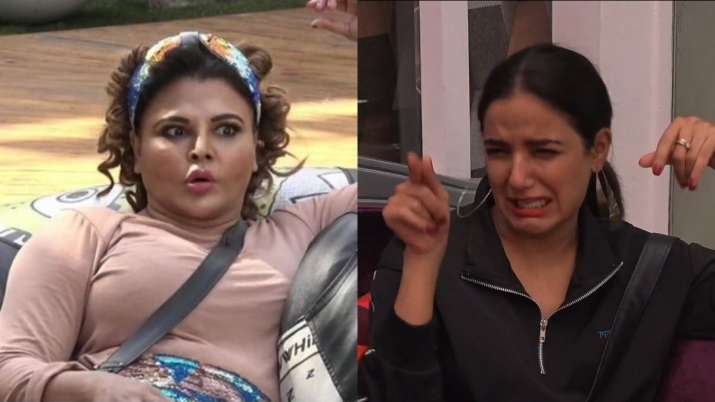 Rakhi Sawant has been termed as the Entertainment Queen in Bigg Boss 14. While she has been making fans laugh out loud with her hilarious statements and antics, the latest episode of the reality show witnessed her locking horns with TV actress Jasmin Bhasin. It all started when Rakhi said whoever thinks or does badly about her will meet with an accident. This started a war of words between her and Jasmin and in a fit of rage, the Naagin actress placed a big penguin face on Rakhi's head leaving her crying and complaining about her broken nose.
This did not end here as Rakhi continued her howl and claimed that she requires a 'surgery' for the same but Jasmin calls all of this a mere 'drama' and 'magar mach ke aansu.'
Supporting Jasmin Bhasin, one Twitter user said, "#JasminBhasin was superb the way she shuts the mouth of #RakhiSawant was amazing & love the way she kissed her waah savage." Another tweeted, "Aftr the mundi was gifted to #RakhiSawant, she walked arnd with the mundi on her head, Tab kuch nei hua. Ab #JasminBhasin ne same mundi uske upar dali to naak toot gayi. Also, jisse sachme chot lagi ho woh kya khud table pe matha pitegi?" On the other hand, people supporting Rakhi Sawant bashed Jasmin and said, "Even if you're doing it for the jokes or not intentionally you have to realize you can hurt someone, the nose is super sensitive and can be hurt so easily, and when #RakhiSawant was crying she has to make fun of that too."
Check out the reactions here-
On a related note, Rakhi Sawant made headlines recently after her husband Ritesh opened up about their love story and claimed that a film on their love story would do better than any other film. "It was love at first sight for us, and before that we didn't meet each other. We used to talk on phone, and then we met each other and got married within two to three days. I told Rakhi that our pictures should not be leaked anywhere in the media or social media, and as an ideal wife, she followed that. Rakhi is like a small child and, to be honest, the kind of love and affection she has showered on me and my family, she has won my family's heart after our marriage. She is like an angel to me and I don't think I could pay her debt in the next seven births."
Rakhi married Ritesh, a businessman, on July 28, 2019 in the city. Their wedding photos went viral on the internet in no time.