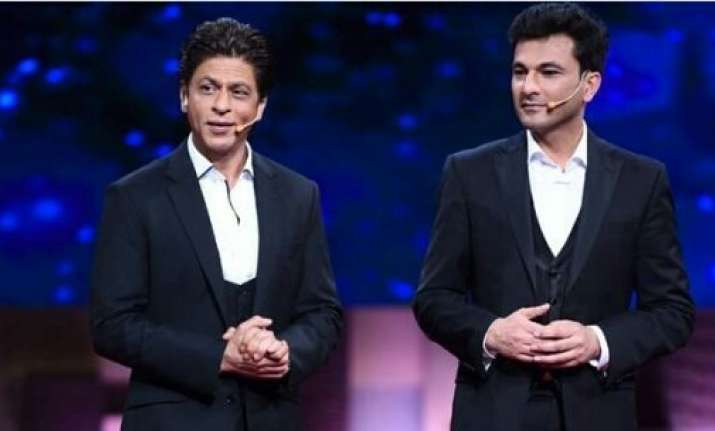 The upcoming episode of the Ted Talks India Nayi Soch, the Shahrukh Khan-hosted show on Star Plus will focus on the theme titled, 'pursuit of happiness'. The episode will see a number of speakers sharing their quest to find happiness in the things they do.
Michelin star winner Indian Chef Vikas Khanna will be one of the speakers on the show. While we know him as a renowned chef who is known for his exceptional culinary skills, few of us know about the hardship that he went through before he emerged as a master chef.
Apart from twinning with Bollywood superstar Shah Rukh Khan, taking the centre stage on TED Talks India, Vikas will pour his heart out speaking about his struggles and how he, like a phoenix, rose from the ashes. 
Battling polio at a young age, Vikas shared that the doctor told his family that he would never be able to walk properly ever in his life. But his family did not want to give up and took him to Delhi from Amritsar for a surgery. "My family struggled but never lost hope.
Vikas, who appeared on the show to promote his book titled UTSAV: A Culinary Epic of Indian Festivals, said, "I started spending time with my beeji (grandmother) in the kitchen. And soon it became my temple. All the disturbing noises around me and jibes of young kids who would call me 'langda' (the boy with polio) would just die down as I would get mesmerized in the world of food. I would make rotis, peel the vegetables and it all gave me so much strength. I realised that this was my worship, my passion and God willingly life started to change soon."
On the show, Vikas also revealed that he has gifted his book to Prime Minister Narendra Modi, former US President Barack Obama, Pope Francis, Facebook CEO Mark Zuckerberg and Dalai Lama. Besides him, the episode, which will be aired on January 21, will also feature actor-director Danish Hussain, anthropologist Sarovar Zaidi, a software engineer named Supriya Joshi and Dr Raj Raghunathan, an award-winning professor of Marketing at the University of Texas McCombs School of Business.
After leaving everyone present with tears in their eyes, Vikas shared a positive message, "I have found my happiness in chopping, cooking and feeding everyone. I hope you all find happiness in the things you do too. I was really excited about sharing my personal stories for the first time on national television. I hope people find a reason to search for their happiness after listening to my tale."
Along with chef Vikas Khanna, the episode will have actor-director, Danish Hussain giving a humourous take on happiness. Also, software engineer Supriya Joshi will talk about Swashikshan (self-teaching) movement. 
A mother of two, she will share that she took her daughters out of school to home-school because she wanted them to be happy. Also, Dr Raj Raghunathan, an award-winning professor and the author 'If You're Smart, Why Aren't You Happy?' and anthropologist Sarovar Zaidi will be seen sharing their experiences.