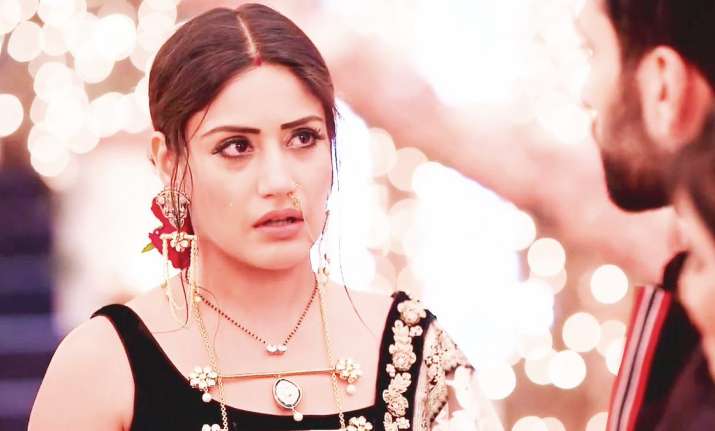 There's bad news coming in the way of Ishqbaaz lovers as the lead actress Surbhi Chandna is most likely to quit the show. Producer Gul Khan has confirmed to a leading entertainment portal that this Star Plus show is moving towards a generation leap soon. Next month, the Nakuul Mehta TV show will take a leap to the next generation which will comprise of Shivaay and Anika's son Shivansh. But this new twist comes along with a bad news that will break many hears.
Sharing the news, Gul Khan said, "We are taking a generation leap in Ishqbaaaz in December."
Shivaay and Anika's chemistry has surely kept the audience hooked so far. Everyone loves 'Shivika' but this leap will come to them as a devastating news as Surbhi Chandna will quit the show post the leap. Earlier, the sources said that Chandna will not leave the show post leap but the fresh reports are suggesting that the actress won't be a part of the show after the leap.
Nakuul Mehta, on the other hand, will continue his role as Shivaay Singh Oberoi in the daily soap. Shivaay and Anika's son Shivaansh Singh Oberoi will be seen in a lead role. A fresh love story will be introduced with Nakuul romancing a fresh face on the show. The actress to play the role opposite Nakuul Mehta hasn't been finalised yet. Earlier, the makers were planning a baby track, which didn't work out.
Ever since the news fanned out on social media, the ardent fans of Ishqbaaz are expressing their anger on the micro-blogging website. Fans are also sending emails and messages to the production house to retain Surbhi Chanda's role.
Meanwhile, #NoSurbhiNoIshqbaaz trends on Twitter with fans threatening to quit watching the show if Surbhi Chandna is ousted.
why don't ask Nakuul mehta to play father to Surbhi. #Shivika can have a baby girl played by Surbhi. Why always target #SurbhiChandna? @gulenaghmakhan @Harneetsin bahut bda game khel gye.@StarPlus @StarAnilJha shame on you.#NoSurbhiNoIshqbaaaz #Ishqbaaaz

— Ananya 💛CSK💛 (@Ananya18531677) November 15, 2018
1 thing is 4 sure
HS & Gul brought Shivika scenes jst 2 divert us frm generation leap
Don't get into their trap
The moment they get good no.s of TRP we'll lose #SurbhiChandna
Guys pls understand the seriousness of the issue#NoSurbhiNoIshqbaaaz
PC: @Iridescentlove1 pic.twitter.com/OVv1p7jNd1

— Hilly (@mi_hilly) November 15, 2018
1 thing is 4 sure
HS & Gul brought Shivika scenes jst 2 divert us frm generation leap
Don't get into their trap
The moment they get good no.s of TRP we'll lose #SurbhiChandna
Guys pls understand the seriousness of the issue#NoSurbhiNoIshqbaaaz
PC: @Iridescentlove1 pic.twitter.com/OVv1p7jNd1

— Hilly (@mi_hilly) November 15, 2018
Dear mates..
If u all can then plzz change your UN to #NoSurbhiNoIshqbaaaz
N ur DP to👇
(Its not compulsory but yeah..its effective..it shows more power)#SurbhiChandna pic.twitter.com/S85cOgYBBU

— αyυsнi (@its_ayu_) November 14, 2018
As a Narbhi fan I want to thank to all of you ( fans, media persons & other fd who supported ) for pouring extra ordinary love for #SurbhiChandna It's a blessing to be a part of #Ishqbaaaz fandom. As our Leads says " YOU GUYS ARE BOMB, THIS ALL BELONGS TO U" #NoSurbhiNoIshqbaaaz

— Aditi 🍃 (@Aditiiiiix) November 14, 2018