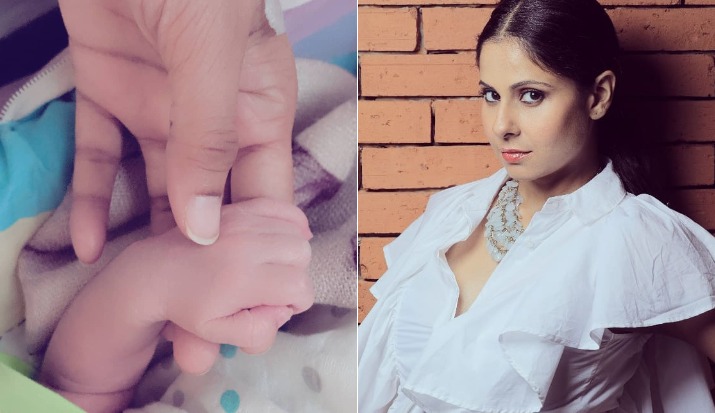 Shitty Ideas Trending founder Chhavi Mittal has been blessed with a baby boy. Chhavi has done many Tv serials as well. She was a popular face in Krishnadasi, Tumhrai Disha, Bandani, Naaginn, Ek Chutki Aasman and many more. The actress finally announced the arrival of a baby boy on May 13.
She took to her social media account to share the news and wrote, "Announcing the arrival of baby boy Arham Hussein on 13th May. Thank you so much for all your wishes ?? I'm still in the hospital recovering, and will be sharing my birth story soon#babyboy."
According to the reports, the actress was expected to deliver the baby on May 12 (Mother's Day). As per her social media handle, she was quite worried about the post-term birth of the baby. She wrote about the anxieties she is undergoing and also shared her concern over the delay in her delivery. She wrote, "I was really looking forward to being a mother of 2 before this day arrives. I know all of you have been waiting for the good news. But more than all you guys, my patience is wearing thin, because there's still no sign of labour. And if labour doesn't knock on my door today, we might have to artificially induce it, which breaks my heart because on one hand the baby's at risk due to being a post-term birth, and on the other hand, the baby's at risk due to the drugs being pumped in my body for an induction. What does a mother choose?..."
She had been waiting for her labour pains and wrote, "Final doctor visit today. Although me and the baby are perfectly fine even though I can't walk anymore and the baby is all cramped up, the doctor will check and decide whether we can still wait for natural labour or go ahead and induce. Last night was the first peaceful night I experienced in the last few weeks with the work and shifting and all. I'm free mentally, relaxed physically, and feel totally ready to welcome to LO whenever he/she comes. Hell I even set up the pram and the cot yesterday!
The nesting instinct though? That's here to stay for a long time I guess.."
She also shared this sweet message for all the mothers,"On the eve of my baby coming, there's a thought I'm getting. I didn't wear too many specifically maternity clothes, but out of the ones I did wear, there's this one dress that's been my favourite. And I would love it if one of you pregnant ladies wears it and feels as gorgeous as I did wearing it!"
Chhavi Mittal got married to Mohit Hussein and is a mother of one baby girl already.