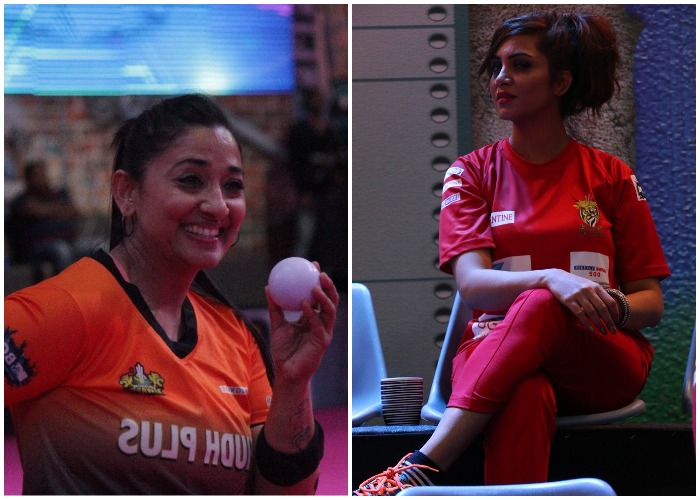 Former Bigg Boss 11 contestant Arshi Khan is known for being a motor-mouth in the controversial reality show. She often picked fights with each and every contestant of the show, especially Hina Khan and Shilpa Shinde. It seems like after coming out of the house, Arshi Khan hasn't given up on her fighting antics. She's currently featuring in Ekta Kapoor's MTV Box Cricket League. In a recent video, she was seen locking horns with Naamkarann actress Shruti Ulfat.
The video, that has gone viral, starts with Shruti talking about how she has no idea who Arshi is. "For us, Arsheen (Arshi) is not important. We don't want to look into her or her things. With her, we would rather be the three monkeys and not see, hear or say anything. We don't know who she is, we don't want to know. She's a player, very good and is in that team, very good. But as long as she is not playing in the field, we don't want to know her," Shruti said.
This didn't seem to go down too well with Arshi, who decided to take it up with Shruti. "I have heard that you have said that you don't know Arshi Khan?" Arshi questioned Shruti, who said, "Jokes apart, I seriously don't know you. I am so busy with my family and my shoot, that I don't watch television. Someone told me that Arshi is playing, and I was like who? I have a little son, and I don't watch TV, as I don't want him to get addicted. But now if anyone asks me, I will say I know her and that I have played BCL with her."
Arshi also introduced herself in her own style to Shruti. "Let me tell you, I am Arshi and I am the second biggest entertainer!"
Well! We we all how how big an entertainer she is! Arshi is surely keeping everyone on their toes in BCL!