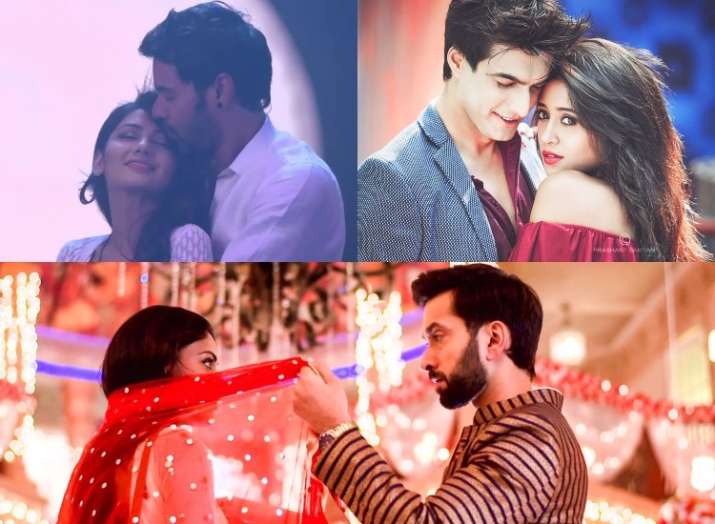 There is never a dull day in the world of television industry. While fans await the release of Sanju this weekend, popular TV serials like Yeh Hai Mohabbatein, Kundali Bhagya, and Ishqbaaaz have created quite a buzz on weekdays. Did you know that  Karan Luthra has found solid proof against Sherlin and Prithvi in Kundali Bhagya? Or about the first meeting of Shivika and Shivaay in Ishqbaaaz? Well, worry not, we have all the latest updates of your favorite TV serials right here. Read up! 
Kundali Bhagya
A major twist is expected in Zee TV's Kundali Bhagya as Karan found Sherlin's slam book in which he writes all her secrets. While Sherlin and Prithvi try to guess what is missing from Sherlin's house, Karan tries to open the slam book's lock. The moment Prithvi realizes that Preeta has stolen Sherlin's slam book, (as he found Preeta's jewelry piece in Sherlin's room), he decided to break in her house at night and bring back the book of secrets. Will he be able to get the slam book back? Will Karan be able to open the lock before Prithvi can find him? Only time will tell!  
Chachiji is basically me drooling over preeran 😂 #KundaliBhagya pic.twitter.com/M10PxjjV03

— ᴇxᴘᴇᴄᴛᴏ ᴘᴀᴛʀᴏɴᴜᴍ ✨ (@tellymaniac) June 22, 2018
Kumkum Bhagya
Don't we all love little romantic scenes between Abhi and Pragya? Well, the duo manages to make eye contact even when the situation is tensed. Abhi and Pragya in Kumkum Bhagya are in the middle of a bank robbery. While the goons are trying their best to catch Abhi, he flies away locking the Boss goon in a room to save Pragya. Will he be able to do it? I say he will, after all, he is a Rockstar. 
Yeh Rishta Kya Kehlata Hai
Naira and Kartik in Yeh Rishta Kya Kehlata Hai are on a mission to uncover the face responsible for making Tanvi's MMS. While Kartik lies to the class that the culprit has been caught to make everyone feel at ease and resume the classes, Niara takes her plan forward in the auditorium. On the other side, Naksh is upset that Kirti's father is investing in his project. However, Kirti feels it's perfectly fine if her father helps her husband. Will this create problems between Naksh and Kirti? Will Naira and Kartik be able to find the man? We'll have to see.
extreme khoobsoorti be like!😍 #Yrkkh #Kaira pic.twitter.com/bE1yVcOOci

— mahrukh✴ (@iammahrukh) June 25, 2018
Ishq Subhan Allah
Kabeer and Zara are in a muddle as they don't know which side to take. The moment Zara stands in the witness box to give a statement against Kabeer, he is shocked. The lead pair is already living miles away from each other since the case about women's rights has started and now after Zara's statement, Kabeer has decided to part ways with Zara. While Ayesha(Kabeer's mother) demands to bring Zara back, Kabeer gives divorce papers to Zara.
Ask !!! Don't be afraid to ask!! And ask with faith #prayer #ishqsubhanaallah @ZeeTV pic.twitter.com/fDcv8XZ0ai

— adnan khan (@adnan_abkhan) June 13, 2018
I recently discovered that i start blushing whenever I see Zara And Kabeer on screen😶😶like seriously 😲😭😭😍😍😍😍😍😍😍😍#ishqsubhanaallah pic.twitter.com/nWlZWlX7vB

— 😍😍ŠÄĽĘHÅ😍😍 (@JCWandNs_always) April 28, 2018
Ishqbaaaz
While Shivaay is all set to marry Tia, Anika is crossing his way again and again. At the roka ceremony of Shivaay and Tia, Anika arrives at his house to take a file from Khanna. Their eyes meet and one can feel that love is in the air. Even the roka chunri fell on Anika's head. Is this an indication that Anika and Shivay should be together?
From His Bride
.....To His Wife
....To Strangers
A new story of love💖#ishqbaaaz#shivika pic.twitter.com/HvGuIviE3q

— Kruti (@kruti_96) June 25, 2018
He turned back to look at her damn😍😭😭😭😭💘#ishqbaaaz pic.twitter.com/Nw95s93b8j

— Kruti (@kruti_96) June 25, 2018