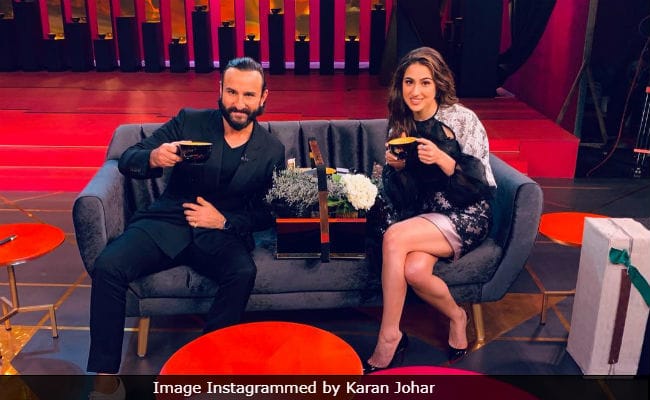 Bollywood's hottest father-daughter duo, Saif Ali Khan and Sara Ali Khan made the episode 5 of Koffee With Karan 6 truly an entertaining one. Karan Johar's most controversial show Koffee With Karan brought the young actress on television for the first time. Sara who is all set to mark her Bollywood debut with Kedarnath was seen sitting next to her father on Koffee Couch. Saif Ali Khan has already proved his acting mettle in many movies and rules millions of heart beats. But when the duo came together on the famous Koffee Couch, it was purely a fun ride.
Catch the HIGHLIGHTS of the show here:
10:00 pm: Father-daughter duo hit it off well in the last segment that is Game On round. Sara wins all the scores for guessing the right answers and calls her dad non-competitive.
09:57 pm: Sara Ali Khan won the hamper!
09:50 pm: Debut Rapid Fire of Sara begins! Sara would drop everything to work with Varun Dhawan. "I'm a Prince and not an Invader" should be the online bio of Taimur. Ranveer is Volcano, Ranbir is Lion says Sara. The new actress wants to date Kartik Aaryan.  Ranveer Singh is father and daughter's favourite for having more money than Sushant Singh Rajput.
09:45 pm: Saif would love to debut with Alia Bhatt if given a chance. Answering diplomatically, Saif says Alia is a better actor than Deepika. But Deepika is the hottest actress in the industry.
09:43 pm: Karan begins with senior actor Saif Ali Khan. 
09:42 pm: Rapid Fire begins!
09:35 pm: Sara Ali Khan in the most unseen video ever! Karan showed an age-old video where 96 kgs Sara is performing a crying scene and dancing in another video. Dad Saif is surely embarrassed at what her daughter is doing in the video and later appreciates her confidence saying that there not many plus sized women who feel confident in their own skin. Giving a friendly nudge to daughter Sara, Saif lightens the mood.
09:28 pm: According to Karan, Taimur score first position on the rate card. Seems like Sara doesn't know anything about such card where Karan says that every person comes with a price and Sara is also there on the list.
09:25 pm: Taimur is the star of the internet. All the famous camera personstalk about the star kid praising him to the core. Saif and Sara watches the pictures in aww explaining that Taimur has become camera friendly now!
09:23 pm: Husband Saif is the first pap of wife Kareena who always gets her fashion game going even while going out for gyming.
09:20 pm: Saif Ali Khan drives his happiness from learning something new and never worried about Box Office collections as an actor. Sara said few kind and special words for her father in his defence.
09:15 pm: On talking about Sara's boyfriend, the girl said that she had one boyfriend who lived in the same apartment as of Karan. Sara also said in her opinion that her mother Amrita must have been a wild partner in the relationship with her father.
09:00 pm: Karan begins the show by introducing the hottest Bollywood father and daughter -Saif and Sara. In the on-going peppy conversation with the host, Sara says that since she's the daughter of Saif Ali Khan and Amrita Singh, of course she is weird as her parents are weird. Sara who is about to make her debut in Hindi films haven't gone out shopping with Kareena yet but thinks it'd be fun to go out with her.
For latest trending updates, click here.