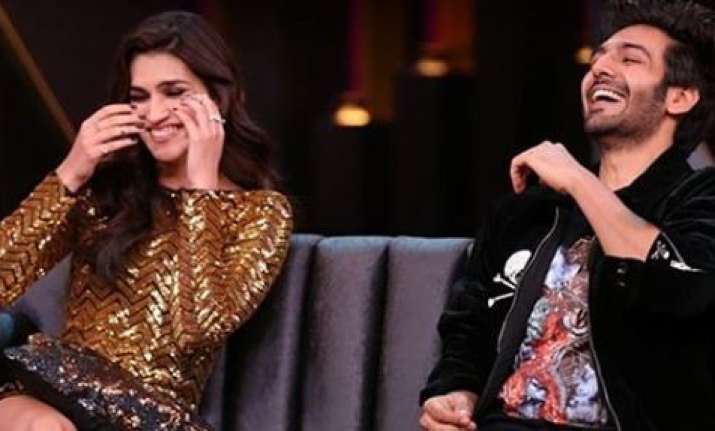 Luka Chuppi actors Kriti Sanon and Kartik Aaryan featured on Karan Johar's latest episode of Koffee With Karan 6 and filled it with laughter and madness. The duo, who also promoted their forthcoming movie on the show, made a number of revelations. Sara Ali Khan's name popped out quite a number of times and Kartik made several candid confessions. Kriti and Kartik also spoke about the struggle of being an outsider in the industry.
Both Kartik and Kriti have an engineering degree. While Kartik started his journey from Gwalior, Kriti is a Delhiite. Kartik revealed that during his struggling days, he used to stay in a 2BHK apartment with 12 people. The actor also revealed that he took admission in a college near Bombay so that he can give auditions and he started doing so from the age of 19. Talking about her career, Kriti said, ''I was so happy when it (Bareilly ki Barfi) did well and it was so strange that after that I only got small-town roles which did feel like an achievement. But I feel, there's so much more that I want to do."
When Karan Johar asked Kartik about Sara Ali Khan, Kartik tried wearing a serious expression but failed miserably. When Kriti interrupted, ''Have you sent her your address?", the actor replied that he is earning more money to match her standards as she is a princess of the Pataudi family. Both Kartik and Kriti believed that among all newbies, Sara has a bright future. While Kriti said that she would prefer to stay away from Sara's wardrobe, Kartik said that he likes her dressing sense.
On the other hand, Kriti denied being in a relationship with Sushant Singh Rajput ever. However, she did confess that she looks good with Sushant. 
During rapid fire round, KJo asked Kartik to name a recent film he feels he could have done better in, to which the actor replies "Andhadhun." On further being asked one lie he could say without batting his eyelid, he said, "That I could have done a better role in Andhadhun." When Kriti was asked to describe the actors in one word, the actress replies were: Varun-marketing guru, Ayushmaan- shayar, Sushant Singh Rajput-curious, Tiger Shroff-boneless. Kartik, on the other hand, revealed that he wants to bae Sara Ali Khan and play with Janhvi Kapoor and Ananya Panday.