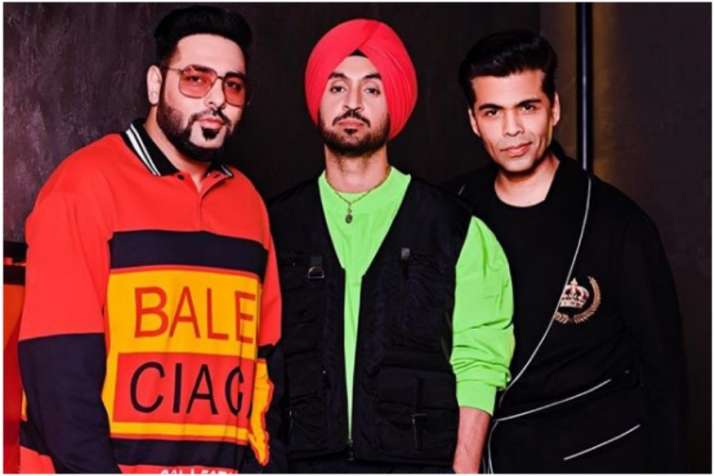 Weekend is here and so is the new episode of Koffee with Karan Season 6. We have to admit that we love Karan's conversations with his guests, their juicy gossip over coffee and our favourite celebrities putting their stylish foot front, especially Karan.  On the latest episode of Koffee with Karan, rapper Badshah and singer Diljit Dosanjh joins Karan Johar for some rib-tickling conversation and stating the obvious the episode is clearly screaming fashion brands.
The fun-jabi boys have been in headlines for their edgy style statements as they have been spotted in the latest, the most stylish and not to forget the most expensive fashion fads by international fashion houses. 
Here are the LIVE Updates for Koffee With Karan season 6 Episode 7
10: 50 PM: Badshah wins the rapid fire round. The last and final quiz the game round begins. Badshah wins the quiz.
9: 45 PM: Diljit Dosanjh takes on the game with full spirit. He says Shankar Mahadevan as the music maestro.  Dosanjh could not answer a single 'How well do you know Kylie Jenner' quiz, the actor instead spoke about his love for her. "When you like someone, just like all of us do, even I like her. There are no limits when you like someone."
9: 40 PM: And the controversial Rapid Fire Round begins! Badshah spills out interesting facts about himself. The rapper said that Kartik Aaryan is the most overrated actor in Bollywood while he would die to work with Shah Rukh Khan.
9: 35 PM: Diljit has a very shy personality and it is very evident in his interviews. However, KJo was able to get some juicy details out of the mamma's boy. During a chaas shots round, Karan asked Dosanjh if he has made out with a girl in a car or a khet. To this, the actor blushed but then willingly drank his shot.
9: 30 PM: Karan Johar introduces fashion quiz. Diljit Dosanjh wins the round. KJo then starts off with the shots rounds. 
9: 25 PM: Badshah spoke about how he met Shah Rukh and Salman at the same time. "When I first met Shah Rukh sir, it was both him and Salman sir. They called me and they were so down to earth in spite of being such big stars. They were very normal. Shah Rukh sir actually served me biryani with his own two hands. He is very hospitable."
9: 20 PM: Diljit reveals that he is a big Salman Khan fan while Badshah states that his favourite was Shah Rukh Khan. About his first meeting with Salman, the Soorma actor shared, "After I met Salman, I became an even bigger fan of his. I was a fan even before. We were shooting somewhere and I found out that Salman sir was also shooting there. I wanted to meet him and there was a girl who knew him and she made me meet him. When he came, he walked as he does in his movies. He was very lovely during the meet and I loved his personality".
9: 15 PM: We all know how obsessed Diljit is with Kylie Jenner. The singer speaks about his love for Kylie and says he is her silent lover.
9: 10 PM: The two even spoke about their embarrassing first-time experiences of singing in front of a crowd. While Dosanjh was in his boxers and forgot the song lyrics after two lines, a 15-year-old Badshah unknowingly performed at a gay club filled with 1500 people.
9: 05 PM: Diljit says he never ever thought of appearing on Koffee with Karan. Diljit and Badshah have both risen to stardom on their own terms and footing. While Diljit always knew that he wanted to be a musician, Badshah was going to become an engineer first. 
9 PM: Host Karan Johar welcomes everyone to his show Koffee with Karan. the filmmaker talks about his airport looks and says he takes care of whatever he wears. KJO introduces the guests for tonight- Diljiit Dosanjh and Badshah.