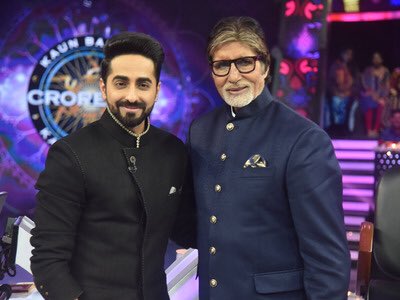 The Friday special episode of Kaun Banega Crorepati was full of grand money, inspiration and filmy surprise. The show started with Amitabh Bachchan welcoming rollover contestant Sunil Kumar Tandi, an Odisha-based District Welfare Officer. Sunil played extremely well and, even reached Rs 1 crore question. However, since he had exhausted all his life lines, Sunil didn't take any risk. Nonetheless, he walked away with a grand prize of Rs 50 Lakhs becoming the first ever contestant from Odisha to win such a huge amount.
After Sunil's grand win, Big B invited special guest Chetna Gala Sinha to the hot seat. She is the founder of Mann Deshi organisation and an inspiration to several women across India. The Mumbai-based social activist has contributed a lot to uplift the status of women in the rural areas of Maharashtra.
The highlight of the show came when Amitabh Bachchan welcomed Bollywood actor Ayushmann Khurrana to accompany Chetna Gala Sinha. The Bareilly Ki Barfi actor was in total awe of Big B and said he couldn't believe that he was actually on KBC. 
Ayushmann and host Amitabh Bachchan shared a special moment when the Vicky Domor actor recited a lovely poem titled Mukhote. Big b loved the poem and, appreciated Ayushmann for being such a multi-talented performer.
Chetna Gala Sinha went on to Rs 50 Lakhs with Ayushmann's help. Amitabh Bachchan congratulated them and wished everyone a happy Govardhan Puja.
For more entertainment news and updates, follow our Facebook page